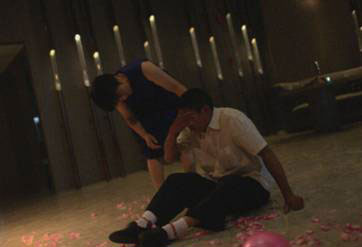 The Chinese father sits on the floor at Darry Ring, a local jewelry store after learning that his daughter has accepted the proposal by a Japanese young man in east China's Shanghai on August 11, 2015. [Photo: China.org.cn]
A Chinese father in east China's Shanghai reportedly burst into cry and fell into despair upon the news that his daughter had nodded yes to a marriage proposal by her Japanese boyfriend, as reported by China.org.cn on Tuesday.
The Japanese boyfriend flew to Shanghai to propose to his Chinese girlfriend, but could not get him through in the girl's family.
The father strongly objected the proposal, believing that the Japanese young man was not trustworthy.
The father then tried to put obstacles in the way by requiring the young man not to return to Japan in five years if he wanted himself to be accepted.
To his great surprise, however, the Japanese young man agreed and then took his girlfriend to a jewelry shop nearby to formally propose to her.
The girl said yes because she was moved by the young man's passion and persistence in the relationship by following her all the way from Japan to China.
The father who ran after the couple to the jewelry store was disappointed and angry to learn that his daughter had already accepted the proposal.
The father's reaction has triggered heated debate online. Some believe that they can understand the father, saying that they would not like to marry the daughter to a Japanese young man, were they in the same position with the father. Others, however, say that the father just overreacted and he does not have the right to break up his daughter's marriage with his personal taste or feeling for the Japanese young man.
【1】
【2】