As Yulin's controversial dog meat festival closed, restaurants and vendors say their main source of meat is "edible dog" farms that usually contain several hundred canines. But it has been discovered that many dog farms operate without proper inspections and quarantine procedures. In addition to this, the vaccines farmers use on their dogs, the chemicals that meat proceeding factories use and the poisons some dog traffickers use to kill dogs pose a substantial threat to health of those who enjoy eating dog meat.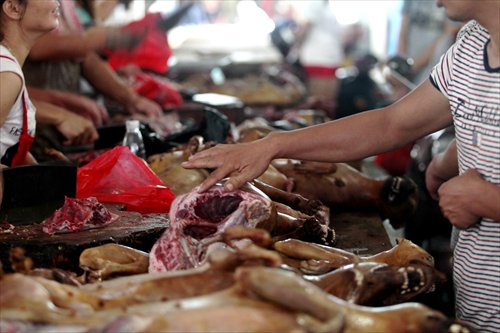 A customer buys dog meat from a vendor in Yulin, the Guangxi Zhuang Autonomous Region, on June 22. Photo: Cui Meng/GT
It has never occurred to Du Hanzhong (pseudonym) that he might name his dogs. Perhaps it is because he usually has around 200 of them. Or maybe it is because he knows his dogs will not keep him company for long.
Instead of providing years of companionship, Du's dogs will be up for sale at 6 months old and some at 4 months old. Unlike other dog sellers, Du never boasts of the cuteness of his dogs when bargaining with his customers, focusing instead on their well-built bodies.
Locked in an iron cage, the dogs are weighed on a large scale and then loaded on a truck to be transported away.
"Once they go through my gate, they are none of my business," Du said calmly, trying to play down the sadness he once felt when parting with his dogs.
He knows well enough where the dogs end up. Either in dog meat processing factories or heading directly to the dinner tables of local families or restaurants, which is why he started his business three years ago in his hometown in Northwest China's Shaanxi Province.
"They [dog thieves] stole my dog in 2011. It was poisoned to death, but they left the body behind somehow. My hometown was under-developed and there were many slackers who would steal dogs for money since some local villagers eat dog meat," Du told the Global Times.
That was when Du decided to join the slackers and become a dog farmer as the business still thrives despite increasing uproar to stop the eating of dog meat.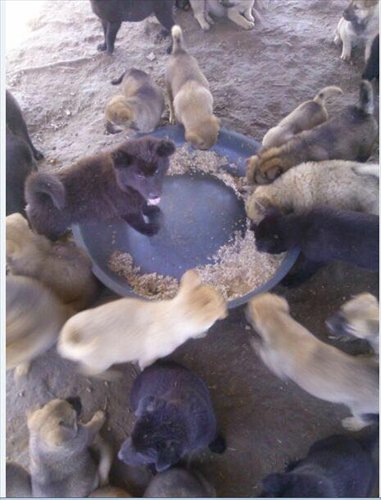 Puppies enjoy a meal on a dog farm in Fangchenggang, Guangxi. Photo: Courtesy of Yan Chen (pseudonym)
'Edible dog' farm
There are no exact records regarding dog farms in China. Searching "dog farm" on the Baidu search engine only shows dog farms located in East China's Shandong Province or Northeast China, whereas the industry is actually spread across the country, according to several dog farmers reached by the Global Times.
Meanwhile, industry insiders almost unanimously agree that there are no "large-scale" dog farms in China. Compared to pig farms, which must have thousands of pigs to be considered "large scale," most dog farms have less than 700 dogs.
"There is no such thing as a large-scale dog farm. Dogs cannot be raised in a large number together. They are prone to diseases and one sick dog can threaten a whole farm," said Fan Xiantao, head of Fankuai Dog Meat Products and the dog farm association of Peixian county in East China's Jiangsu Province, an area which is known for dog meat.
Fan's facility, covering 20,000 square meters, does not raise dogs on its own. When it is dog meat season, which begins around the Mid-Autumn Festival that falls on the 15th day of the eighth lunar month, his company would go and purchase dogs from smaller farms or even households in the county.
"There are hundreds of thousands of dogs in Peixian county. It is our resource base," he said.
Dog farmers either directly contact dog meat processing companies or dog traffickers when their dogs are ready for slaughter.
There are two main kinds of "edible dogs" in the business: Chinese rural dogs and hybrids of large dogs, such as Caucasian Ovcharkas and Tibetan Mastiffs. Many dog farms in southern China prefer Chinese rural dogs, which are usually smaller with firm muscles, while farms in northern China tend to go for large dogs with more fat.
All dog farmers contacted refused to allow the Global Times to visit their farms. They said they were fearful that harassment by activists or an exposé on one farm would damage the industry. But many agreed to send photos to prove their existence.
As "livestock," the dogs are either locked in cages or put into dog sties with brick walls, according to photos sent to the Global Times or posted to an online chat group. Each dog is given an area of about 1.5 square meters on average as the animals often need to share a sty or cage with others. Violent dogs are raised individually in their own cages.
Some farms also have open spaces for dogs to play during the day.
According to farmers, a dog can be raised cheaply, with food costing less than one yuan ($0.16) a day and one-time vaccines costing 10 yuan. Since there is no feed specially for dogs available on the market, many farmers use whatever is convenient for them to feed their dogs, including wheat bran, corn or green fodder.
Similar to pigs, dogs are ready for slaughter when they are 4 to 6 months old. As many dog farmers purchase 2-month-old puppies from local households or other farms, many dogs live on farms for less than four months. If they are kept for longer, the farmers will not make a profit.
An average Chinese rural dog can weigh between 10 to 15 kilograms when it is 4 months old, with larger dogs reaching around 20 kilograms. They are often sold for between 20 and 32 yuan per kilogram, meaning that Du's 200 dogs can be sold for around 90,000 yuan.
Dog eat dog
Yan Chen (pseudonym) started his dog farm last year after noticing the growing popularity of dog meat in Fangchenggang, the Guangxi Zhuang Autonomous Region.
Also in Guangxi, the summer solstice celebration in Yulin, which features the consumption of dog meat, lychees and strong liquor, once again drew international criticism from animal rights activists this year. Yan earned 60,000 yuan from the festival after selling 100 dogs to dog dealers who allegedly transported the dogs to Yulin.
"The more attention activists put on us, the more money we make," a dog meat vendor in Yulin told the Global Times, adding that the price of dog meat has increased from 44 yuan per kilogram last year to 50 yuan in 2015.
There are presently around 100 dogs on Yan's farm. As dog meat has become increasingly popular in his hometown, the young man said he plans to expand his operation to 1,000 dogs in the coming years.
As Yan works to realize his dream, others have started to quit the business.
"The profits are too low and the risks are too high. Puppies easily fall ill with stomach diseases and require more care, but we can only make 80 yuan out of each dog," said an anonymous former dog farmer in Nanning, Guangxi.
In comparison with lamb, which costs over 60 yuan per kilogram, the low price of dog meat has also become a target for public suspicion.
"It is impossible to raise dogs at such a low cost. Dogs can be raised, but with high standards and high costs too. Judging from their physique, dogs resemble goats or sheep, with similarly low cutability (proportion of meat that can be harvested from a carcass), but how much does lamb cost?" argued Zhang Xu, famous veterinarian and owner of a pet clinic in Hangzhou, East China's Zhejiang Province.
Such comparisons, plus the high frequency of dog theft in rural areas in China, are main reasons many activists condemn dog eating, as many families have lost their pets to dog traffickers.
A four-year investigation into China's dog meat industry by the Hong Kong-based international NGO Animals Asia, also read that the NGO uncovered evidence that supports long-standing claims that the majority of dog meat comes from stolen pets or stray animals.
A risky meal
Meanwhile, others also questioned the safety of dog meat consumption, especially as most stolen dogs were reportedly poisoned to death.
Authorities in Huzhou, Zhejiang busted a 26-person gang of dog thieves in April with more than 140 dogs that had been poisoned to death. The five tons of dog meat seized could be turned into 1,400 dishes for customers. "The dogs were killed with cyanide. Human health will be affected after eating such meat," Wang Quande, a police officer handling the case, was quoted as saying by news site zjol.com.cn.
Zhang echoed such concerns, emphasizing that the harmful chemicals may not be completely eradicated during high temperature processing. He added that even with dogs allegedly raised at dog farms, remnants of vaccines may be a threat to human health.
"As dog meat is not part of the nation's non-staple food supply program, vaccines for dogs are so far inedible, which means it remains to be seen what kind of effect the vaccines will have on human beings," he added.
Dog farm owners however say that the availability of vaccines is not a problem. Almost all the farmers reached by the Global Times confirmed that they could get their dogs vaccinated against at least three kinds of diseases, including canine distemper, which is regarded as a major threat to many farms. Some would also vaccine their dogs against other diseases, including rabies.
The cost of vaccinating a dog varies across China from seven yuan to 10 yuan. Many farm owners claim that they vaccinate their dogs either by themselves or with veterinarians. Few said they would seek help from more expensive, but more qualified, quarantine examination officers.
Worryingly, as neither dog farmers nor dog traffickers want to pay quarantine fees, most dogs are transported without quarantine approval to food processors or restaurants, several farm owners admitted.
They added that quarantine approval is only required if the dogs are transported to other provincial-level regions, but some claimed that approval can be easily gained if the dogs are vaccinated.
As head of a dog meat processing plant, Fan, however, pays more attention to quarantine procedures to guarantee safety. All dogs purchased will be first observed for a while before they can be slaughtered and then go through an inspection, which is just an "observation" by animal quarantine officials.
"There is so far no policy to standardize the whole business and the agricultural authorities have made inadequate investment into research and development of better canine vaccines. But we are trying our best to ensure food safety," Fan said.
For the time being, eating dog may continue to be like driving on the road, according to Du. "You have to put your seat belt on, but you still don't know if you will be in a car accident."