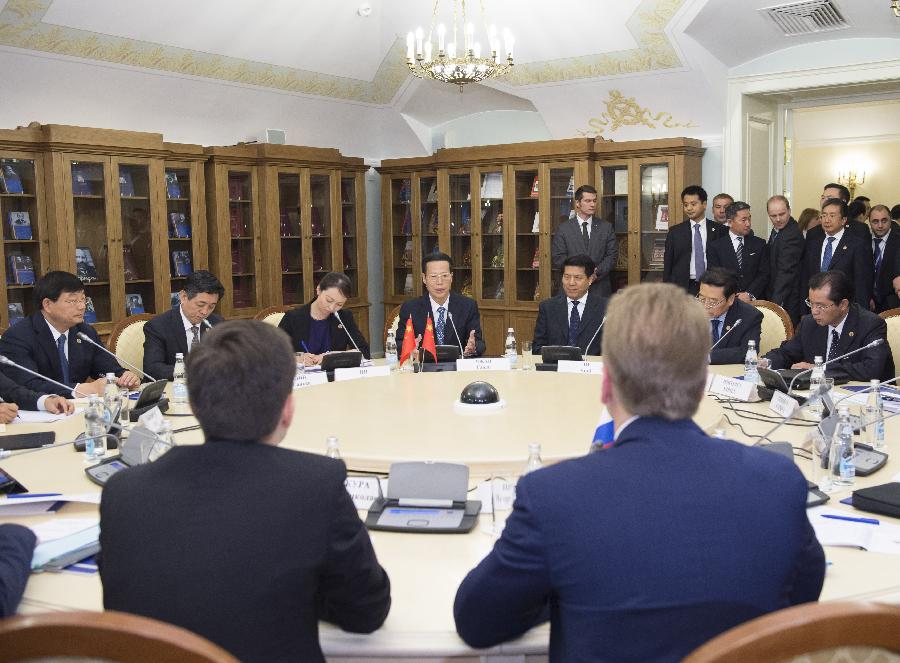 Chinese Vice Premier Zhang Gaoli(C rear) and Russian First Deputy Prime Minister Igor Shuvalov co-chair a narrow range talk of the second meeting of the China-Russia Investment Cooperation Committee in St. Petersburg, Russia, June 18, 2015. (Xinhua/Wang Ye)
ST. PETERSBURG, June 19-- China and Russia, at the second meeting of the China-Russia Investment Cooperation Committee here on Thursday, agreed to deepen cooperation in investment and implement their cooperation projects at an early date.
The meeting was co-chaired by visiting Chinese Vice Premier Zhang Gaoli and Russian First Deputy Prime Minister Igor Shuvalov.
At the meeting, the two sides determined a list of additional large-scale cooperation projects that the two countries aim to carry out in the near future.
Since China and Russia officially launched the intergovernmental mechanism for investment cooperation in September 2014, the fields of bilateral investment cooperation have kept enlarging and the number of projects has been growing, with tangible results achieved, Zhang said.
The meeting determined a fresh list of large-scale cooperation projects, in addition to the initial list of 32 major projects that the two sides agreed on at the first meeting of the investment cooperation committee.
Zhang said the two sides should focus energy on implementing these major projects, promote continued development of bilateral investment cooperation, and further highlight key areas for production capacity and investment cooperation.
The two sides should promote continued achievement of new progress in cooperation in infrastructure, equipment manufacturing, the petrochemical industry, building materials, mining, automobiles and agriculture, the Chinese vice premier added.
Zhang also stressed that fiscal and finance cooperation should be regarded as the key area to be strengthened in the two sides' pragmatic cooperation, and that China and Russia should launch cooperation in national currency swap, expanding national currency settlement, and investment and financing in national currency.
He urged the two governments to step up policy coordination, improve efficiency of government approval, promote facilitation of trade and investment and create favorable conditions for enhancing mutual investment cooperation.
Shuvalov said the Russian side is ready to work with China to fully utilize the role of the two countries' investment cooperation committees to actively promote practical cooperation in fields of investment, finance, production capacity, etc.
After the meeting, Zhang and Shuvalov witnessed the signing of a contract of joint survey and design of Chinese and Russian companies for the Moscow-Kazan high-speed railway project.
According to official statistics, China's investment in Russia has been growing steadily over the past few years. Chinese direct investment in Russia, including those via third countries, totaled 33 billion U.S. dollars by 2014.
【1】
【2】
【3】