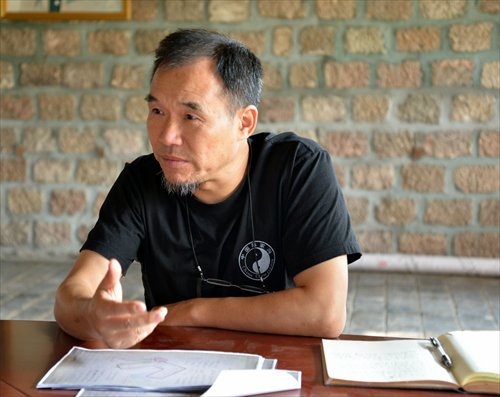 Sun Jun. (Photo: Meng Si)
Sun Jun, had always dreamed of becoming a famous painter.

But that dream changed 11 years ago, when he chanced upon a run-down village in Wushan county, Hebei Province, a place beset by filth and poverty.

"The village was really poor, but it had a good landscape. I thought that compared with drawing it on the canvas, making it into a really beautiful piece of countryside would be more intriguing," painter Sun Jun, who is also director of "Beijing Green Red Cross," an environmental-protection NGO, said.

From then on, Sun spent three years in the village, along with other NGOs, helping local villages to improve the environment, develop their local economy and attract young people to return home by developing rural ecological tourism.

Since then, he has discovered that his life's mission is rural reconstruction using ecological ideas. Now, he spends most of his time on construction sites in rural areas, helping villagers to build beautiful homes.

Sun vowed to renovate as many Chinese villages as possible and bring prosperity to the people. He believes that China's rural areas are the basis of the development of Chinese society. By bringing back the traditional relationship between the people and the land, and encouraging people to stay in the countryside, he believes China can find a new way of pushing forward urbanization.

Now, his way of helping rural areas is being promoted in several villages in Henan, Hebei and Hubei provinces. Recently, he was made a yearly honored figure with the "Gonghe Award," a prize given by the Gonghe Foundation.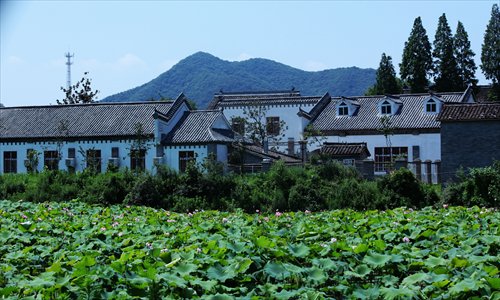 Haotang village after renovation. (Photo: Ding Qin)
Shock to the system

Eight years ago, when Sun walked into Yanhe village, Hubei Province, he was shocked by the stench of sewage. At the end of the village road, he saw rubbish piled up along the roadside and the excrement of livestock flowing directly into the village river.

"The first step was to dispose of the rubbish to make the place livable," Sun said.

In 2003, when citizens in urban areas were unfamiliar with the concept of sorting rubbish, villagers in Hubei had to test the water and classify rubbish and dispose of it in different bins.

In order to make this work feasible, Sun simplified the process of sorting out waste and divided it into two different categories: dry and wet. Sun also asked villagers to dispose of used batteries and pesticide bottles separately.

Gradually, by cooperating with officials in the village committee, Sun visited villagers door by door and instructed them on how to dispose of their rubbish.

Sun spent almost two weeks helping villagers get used to the new method.

A monitoring system was also established. Sun organized volunteers to drop in on villagers and check on the hygiene situation. Any villager found littering was fined. Prizes were also given to families who had done well in sorting their rubbish.

Eventually, villagers learned how to classify the dry and wet rubbish and also got rid of the habit of littering.

"If you open a door of beauty, villagers will close the door of ugliness," Sun said.

The next step, Sun said, is to come up with a sound plan on ecological rural construction, including forest conservation, water and soil conservation and organic tea garden construction.

"Villagers have to rely on a good environment to draw in tourists, and after that, you can create job opportunities for local people, and more and more youngsters will return," Sun said.
【1】
【2】