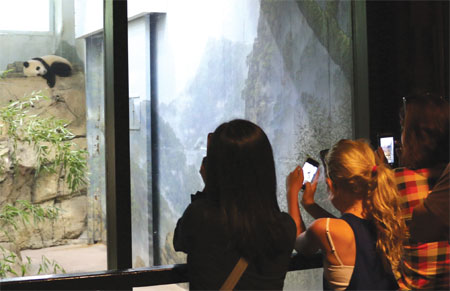 Panda cub Bao Bao, who will celebrate her one-year birthday on Aug 23, draws visitors on Thursday at the National zoo in Washington. (Chen Weihua / China Daily)
Panda cub Bao Bao has been the darling of the National Zoo in Washington since she was born last summer. And the zoo is inviting everyone to join in her birthday celebration on Aug 23.
Details of the celebration's program have yet to be announced, a public relations official at the zoo told China Daily on Thursday. But Bao Bao continues to draw crowds daily.
On Thursday around noon, visitors were even fascinated by Bao Bao sprawled out idly on the edge of the mini rockery inside the pavilion of the David Rubenstein Family Giant Panda Habitat.
"Look, she is playing with her tail, up and down," a woman in the crowd told her children.
Bao Bao's mother, Mei Xiang, just celebrated her 16th birthday on July 22. The zoo is asking fans to help celebrate giant panda conservation in honor of Bao Bao's birthday by using new media.
"Tweet a message about what Bao Bao represents for conservation and wish her a happy birthday using #BaoBaoBday," the zoo tweeted on Wednesday.
Messages soon poured in via Twitter. "An early Happy Birthday wish for Bao Bao. Enjoy yourself. Thanks to the Chinese for sharing the wonders of baby Pandas," tweeted Pat Pietrzak.
"I wasn't a panda fan before but our DC precious treasure changed all that. Now I want to go to Chengdu," wrote Suzy Johnson, referring to the giant panda breeding center in Chengdu in southwest China's Sichuan province.
"Happy Birthday Bao Bao! You are adorable and we love watching you grow up!" said Tanina Linden. The National Zoo operates a 24/7 live webcam for Bao Bao and her parents.
"So excited that I'll be in DC and will absolutely be at the zoo on August 23," said Emily Moses.
The National Zoo described Bao Bao as an ambassador for her species and her birth represents decades of cooperation between scientists in both China and the US.
Scientists have learned much about giant panda reproduction in the 42 years since Ling-Ling and Hsing-Hsing first arrived at the National Zoo following then US president Richard Nixon's ice-breaking trip to China.
The research's success has led to the more than 350 giant pandas now living in zoos and research centers around the world. And in China, scientists are preparing to begin reintroducing pandas born in captivity into the wild.
Bao Bao was the result of a precisely-timed artificial insemination performed by Chinese and American scientists.
On Aug 23, 2013, after 16 days of 24-hour behavior monitoring, the panda team learned that they had been successful when they watched Mei Xiang give birth to a tiny cub.
Bao Bao's parents were both brought to the US in 2000 and later gave birth to a male cub later named Taishan, who is now back in China for breeding. The China Wildlife Conservation Association and the National Zoo have extended the giant panda program through 2015.
Bao Bao received her name after a voting campaign joined by some 100,000 people across the globe. The celebration held at the zoo last Dec 1 featured videotaped messages from Chinese first lady Peng Liyuan and US first lady Michelle Obama.
The cub is fond of sleeping in trees and popsicles are her favorite food.
She has been participating in regular training sessions, but as always, only on her terms, wrote keeper Nicole MacCorkle on the zoo's website on July 14.
"On the days when she's focused, we make real progress - we build on old behaviors she has mastered, and learn new behaviors," said MacCorkle.
Besides Washington, three zoos in the US keep giant pandas on loan from China: San Diego, Atlanta and Memphis.