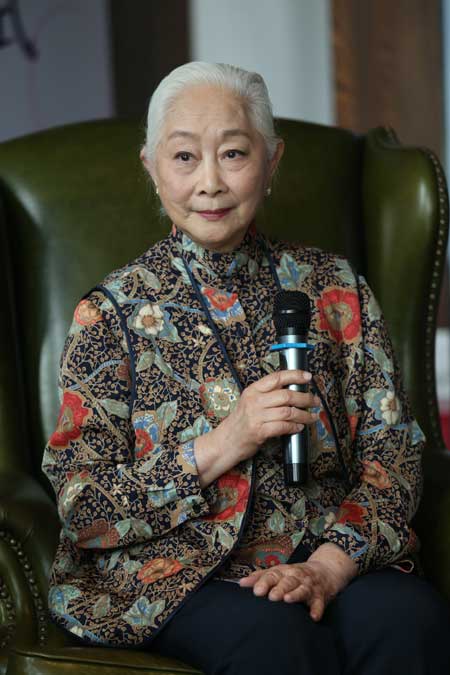 Lisa Lu, 87, will play the female lead in A Dream Like a Dream, Stan Lai's eight-hour stage epic, for the upcoming Christmas season. [Photo by Jiang Dong/China Daily]
"I told Bertolucci that Cixi was a woman who cared very much about her appearance. She would never meet anyone while looking cadaverous, even lying on her deathbed. But what Bertolucci wanted was not how she really looked, but how she appeared to a small boy (the last emperor) who was whisked to meet her. And I obliged," Lu recalled in a recent conversation.
Lu has appeared in many films, both English and Chinese. And when she is not on screen, she is onstage.
No matter how small the role is, she never fails to make it memorable. She has the knack of stealing a scene with one look - sometimes not even a look but rather by not looking.
Asked why she prefers such a busy schedule, she did not say "I love acting". Instead, she told of her rich friends in Hong Kong who had little to do but play mahjong all day long.
"They were always complaining about this or that ailment. But once they emigrated to the US and had to take care of their own household chores and driving their kids to school, they become healthy again."
Lu does not simply keep working - she keeps coming up with surprises. For the upcoming Christmas season, Lu is to play the female lead in A Dream Like a Dream, Stan Lai's eight-hour stage epic.
"I played Gu Xianglan in the 2005 Taiwan production," says Lu. "But I feel I can improve on it." The character is a courtesan in 1930s' Shanghai who later marries a French aristocrat. "The arc of her life is more dramatic, full of ups and downs. Compared with her, my life is more mundane."
But no less fabled.
【1】
【2】
【3】
【4】
【5】
【6】