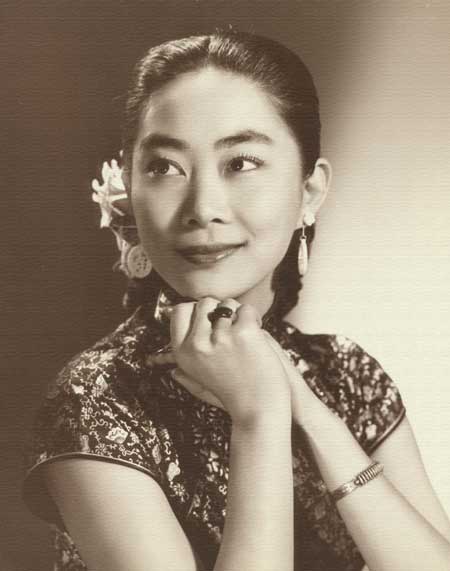 Lu's big break in her acting career came from Hong Kong, where she won three Golden Horse Awards. [Photo provided to China Daily]
The seeds of Lu's acting talents were planted early in her life. Her mother was a Peking Opera star and her godfather was Mei Lanfang, the greatest icon of the Chinese performing-arts genre. Lu herself appeared on stage while still a teenager. With typical humility, she now says she did not have the chops to be a professional opera performer.
Her training in theater and film started in a very unusual way. In the 1940s, Shanghai showed lots of Hollywood movies. The practice of the time was not to add subtitles or dub the films, but to hire simultaneous translators. Lu was a so-called "Miss Earphone" and she learned to act by imitating actors on the screen.
In 1947, she enrolled in the University of Hawaii and in 1956 her whole family moved to Los Angeles. She was an accounting major whose acting bug was gnawing at her constantly. With the encouragement of her family, she got into Pasadena Playhouse and soon a slew of small roles beckoned from neighboring Hollywood.
Lu's big break came from Hong Kong, where she starred as the female lead in The Arch. In this 1970 film, she plays a young widow who has to suppress her affections for an officer. The film did not assume a customary tone of denunciation toward the old system as dehumanizing, nor did it extol it as a traditional virtue.
Anchoring the film is Lu's portrayal, so rich in nuances that it defies easy categorization. Hers is an intimate study of the psyche of an old-style Chinese woman caught between responsibility and emotions.
The role won her first Golden Horse Award. It was soon followed by two more. Her title role in The Empress Dowager, a 1975 historical drama shot entirely in Hong Kong but with period details that may fool an expert, is notable for the complexity with which she endowed the often vilified character.
When Italian filmmaker Bernardo Bertolucci invited her to reprise the same role for The Last Emperor, she noticed that the portrayal seemed to be exaggerated.
【1】
【2】
【3】
【4】
【5】
【6】