The Danxia landform refers to various landscapes found in southeast, southwest and northwest China that "consist of a red bed characterized by steep cliffs."
The landforms are unique types of petrographic geomorphology found in China. The Danxia landform is created from red-colored sandstones and conglomerates mainly from the Cretaceous Age. It looks very much like karst topography that forms in areas underlain with limestone, but since the rocks that form the danxia are sandstones and conglomerates, they are referred to as "pseudo-karst" landforms.
The following are the "Top Seven Most Beautiful Danxia Landforms in China" as ranked by China National Geography Magazine.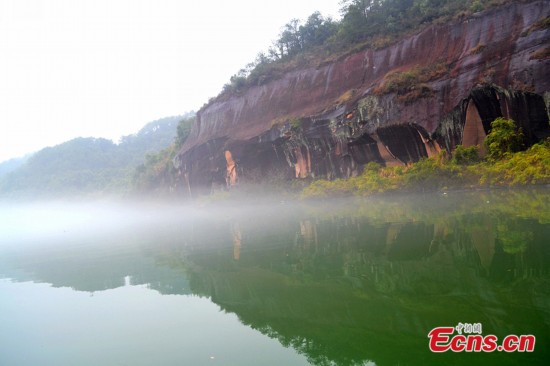 1. Mount Danxia (Guangdong)
Mount Danxia is a noted scenic area near Shaoguan in the northern part of Guangdong province. The Danxia mountain is formed from a reddish sandstone that has eroded over time forming a range of mountains surrounded by curvaceous cliffs and unusual rock formations (Danxia Landform). It is described by the local signage as a "world famous UNESCO geopark of China." There are a number of temples located on the mountain range and visitor can enjoy many scenic walks in the area. There is also a river that winds through the mountain area and boat trips along the river are offered to visitors.
Danxia Mountain also has a few unique stones such as the Yang Yuan Stone, Yin Yuan Stone, Breasts stone, Sleeping Beauty and other attractions which make Danxia Mountain a "natural sex culture museum." Particularly noted are two formations: a stone pillar called the Yangyuan ("male/father stone") that bears a remarkable resemblance to a phallus and the Yinyuan hole, which somewhat resembles the female labia.
In the 2010 UNESCO list of world heritage sites, Mount Danxia was listed as a natural World Heritage Site as part of China's Danxia landform.
Best travel time: All year around
  2. Wuyi Mountains (Fujian)
The Wuyi Mountains are a mountain range located in the prefecture of Nanping, in northern Fujian province near the border of Jiangxi province. The mountains were listed as a UNESCO World Heritage Site, for cultural, scenic, and biodiversity values in 1999. [Photo/China News Service]
The Wuyi Mountains are located between Wuyishan City, Nanping prefecture in Fujian province and Wuyishan,in the city of Shangrao in Jiangxi province. The world heritage site has a total area of 99.975 hectares that is divided into four core parts: the Nine-Bend Stream Ecological Protection Area (36,400 ha) in the center, flanked by the Wuyishan National Nature Reserve (56,527 ha) to the west and the Wuyishan National Scenic Area (7,000 ha) to the east. The fourth part, the Protection Area for the Remains of Ancient Han Dynasty (48 ha) is located in a separate area about 15km to the south-east of the other lcoations. The core parts are surrounded by an additional buffer zone of 27,888 ha.
Best travel time: summer, although it's very hot then but everything is exuberant.
【1】
【2】
【3】
【4】
【5】
【6】