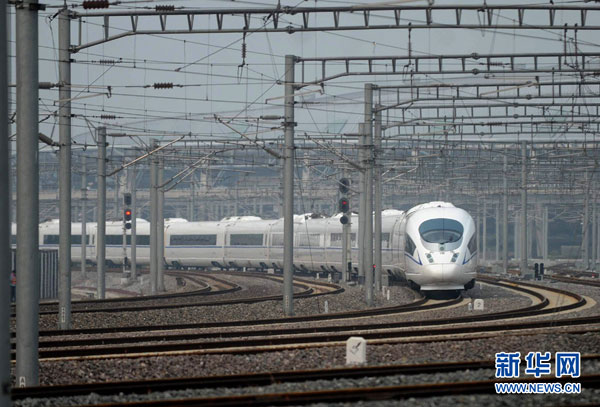 A file photo of Beijing-Shanghai High-speed Railway. [Photo: Xinhua]
The Beijing-Shanghai High-speed Railway disclosed 2015 revenue of over 6.5 billion yuan (971 million US dollar), on July 19, 2016, living up to its reputation as "the most profitable CRH line in the world."
The figure was disclosed in an official bond issuance document of one of the line's major stakeholders.
The document cited statistics from China Railway Corporation, showing that the Beijing-Shanghai line transported almost 130 million passengers in 2015 alone, with estimated profit of 50 yuan (7.47 US dollar) per passenger.
The document also revealed that the CRH line had been narrowing its deficit since it opened in 2011 and began to see profit in 2015.
Cai Qinghua, director of the board of Beijing-Shanghai High-Speed Railway Corporation, said the surprisingly fast growth of transport contributed to the quick reversal of the deficit.
Beijing Jiaotong University Professor Zhao Jian, with the School of Economics and Management, said the economic advancement and high population density of the Yangtze River Delta provides good conditions for railway operation. For the same reason, the Shanghai-Hangzhou, Shanghai-Nanjing, and Wuhan-Guangzhou High-speed Railways may become profitable as well.
Conceived in 1990, the construction of the Beijing-Shanghai High-Speed Railway was started in 2008 and opened to passengers in 2011. It was the largest investment in a railway project since the founding of new China. With cutting-edge technology, the train takes only 4 hours and 48 minutes to travel from Beijing to Shanghai.