Will integrate micro-blog staff to news team; short video app to be one of firm's new focuses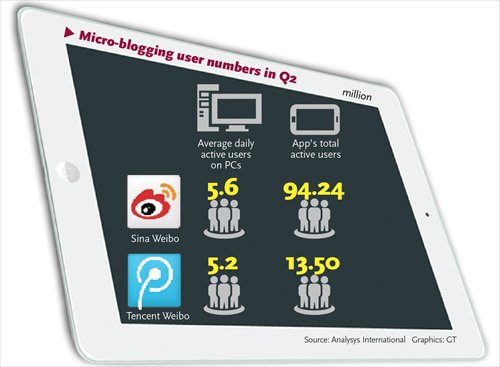 (Graphics:GT)
Tencent Inc will integrate its micro-blogging service's operation team into the company's news team, Tencent said Wednesday, after media reported that it has dismissed its micro-blogging department and will stop upgrading its micro-blogging service.
In a statement e-mailed to the Global Times, Tencent said that it will continue to provide "leading user experience" for users of Tencent Weibo - the company's micro-blogging service.
Tencent did not offer details on when and how the operation team of Tencent Weibo will be integrated into the news team.
Tencent Weibo has over 500 million registered users. "But most users of Tencent Weibo come from Tencent's instant messaging service QQ. Tencent Weibo itself does not have strong influence among users," Li Xinran, an analyst at consultancy Analysys International, told the Global Times Wednesday.
Tencent Weibo is losing ground in the competition with its major rival Sina Weibo, which is mainly why Tencent decided to stop further investment, analysts said. Sina Weibo landed on the NASDAQ Stock Exchange in April this year, raising $286 million.
Yang Xuebin, an analyst at Beijing-based iResearch Consulting Group, told the Global Times that it is reasonable for Tencent to stop investing in its Weibo services and focus on business that could generate more value for the company.
But Yang noted that the news does not necessarily mean Sina Weibo now has it easy.
"There are so many kinds of social networking platforms currently and Sina Weibo is also facing fierce competition from other platforms such as Tencent's mobile instant messaging service WeChat."
As Tencent streamlines its Weibo services, its short video app Weishi, which offers a platform for users to share videos up to 8 seconds long, will be one of its new focuses.
Tencent said in the Wednesday statement that Weishi will become a separate department of Tencent during the current strategy adjustment, in order to "support the long-term development of the product."
Yang noted that the move indicates that Tencent is upping its efforts in the mobile Internet sector and short video apps will have great growth potential as users are seeking more diversified ways to share information on the social networks.
Figures from the China Internet Network Information Center showed on Monday that as of June 30, China's mobile Internet users reached 527 million, increasing from 26.99 million at the end of 2013.
Tencent has gained the upper hand in the mobile Internet sector with its messaging app WeChat. Data from Analysys International shows that Tencent's WeChat, QQ and QQ music are currently the three most popular apps in China.
"With the development of 4G services in China, short video sharing platforms are expected to see fast growth in the future," said Li from Analysys International, adding that mobile Internet is expected to see "explosive growth" this year.
Major wireless operators such as China Mobile have stepped up efforts to push the development of fourth-generation 4G services, which will make it easier for mobile Internet users to upload data and also bring down fees.
Tencent's large user base in WeChat and QQ will continue to contribute to the user growth of its Weishi app, but the company is also facing strong competition in the sector, Li noted.
Sina Weibo also launched its short video sharing services in December 2013. Meipai, a similar app developed by meitu.com, which has gained great popularity among selfie enthusiasts with its photo beautification software, is also posing a strong challenge to Tencent's Weishi.
"I think the greatest competition for Tencent's Weishi now is Meipai," iResearch's Yang said.