Brazil's new president goes shopping in China's Hangzhou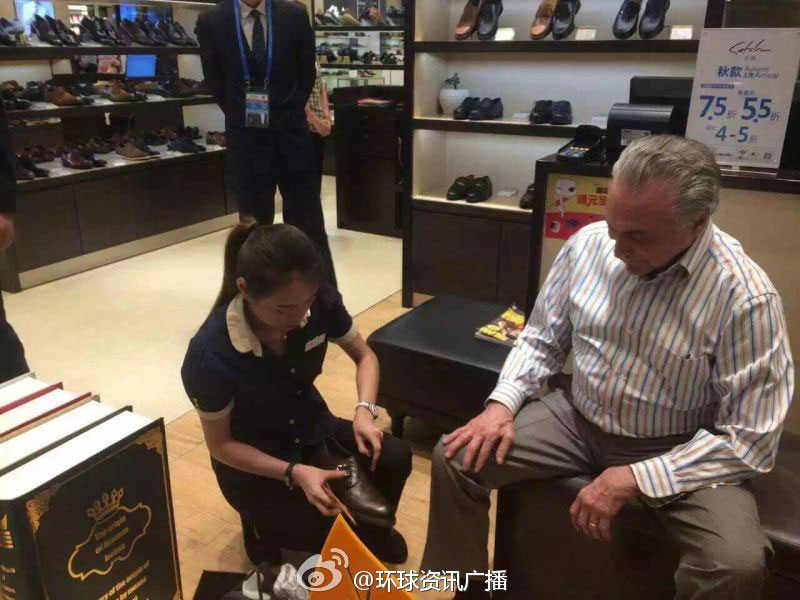 Brazilian President Michel Temer tries on a pair of shoes in a shopping mall in Hangzhou, east China's Zhejiang Province on September 3, 2016. [Photo: Sina Weibo account of CRI News Radio]
Brazilian President Michel Temer, who is in China's Hangzhou for the G20 summit, took some time off his busy schedule to do some shopping in the downtown area on Saturday.
Shoppers were surprised to spot Temer trying on new shoes at a shopping mall. He even posed for a photo with the shop assistant who helped him with the shoes.
According to local media reports, Mr. Temer eventually spent 1,197 yuan or about 180 dollars on a pair of leather shoes and a toy dog that can understand voice commands and make various moves accordingly.
Temer also waved to a gathering crowd from time to time.
A local website reported that some shoppers went to buy shoes of the same design after Temer left.
Some netizens commented that shoes of the same design might become a hit on Chinese e-commerce websites soon.
The shopping excursion by the Brazilian president has received extensive media coverage in China, especially on social media.
【1】
【2】
【3】
【4】
【5】
(Editor: Kong Defang,Bianji)
Related reading