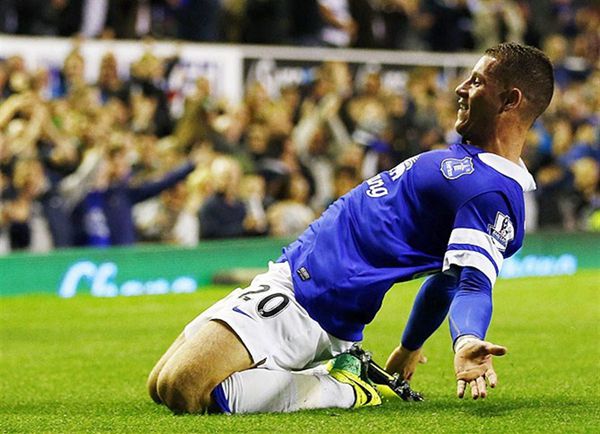 Ross Barkley.
England manager Sam Allardyce has defended his decision to leave Everton midfielder Ross Barkley out of his first squad for the 2018 World Cup qualifier in Slovakia at the weekend.
The 22-year-old has enjoyed an impressive start to the Premier League season and many observers felt he had done enough to deserve a place in the 23-man group named on Sunday. However, Allardyce, who succeeded Roy Hodgson as manager after England's underwhelming Euro 2016 campaign, said there was still time for Barkley to feature in his future plans.
"We have had to make a few difficult decisions and none more so than Ross Barkley," Allardyce said yesterday. "For him it's disappointing, for me, you have to make these decisions. The door will always be open for Ross but right now I feel the squad I've picked is the right one."
Marcus Rashford also missed out, instead selected for the under-21 squad against Norway, even though the 18-year-old striker featured for England at Euro 2016 and scored Manchester United's injury-time winner against Hull City on Saturday.
"Having international experience in the under-21s will prove invaluable for us further down the line," the former West Ham, Bolton Wanderers and Sunderland manager added.
"If he plays for Manchester United on a regular basis, if he is regularly breaking into the United team then it will be a good basis for inclusion in my squad." A llardyce, 61, was to take his first training session with the players yesterday with several, most notably Manchester City's goalkeeper Joe Hart, involved in speculation over their club futures ahead of Wednesday's transfer deadline day. "If Joe arrives today, and I'm sure if there's anything in the pipeline Joe will tell us this may happen. Then we can get ready if it does," Allardyce said.
Slovakia held England to a goalless draw in its last meeting at Euro 2016, a game Allardyce expects will have little bearing on Sunday's meeting in Trnava.
Wayne Rooney will revert to playing as a deep-lying forward but must wait until today to see if he is still the captain. Rooney finished last season as a central midfielder for United, and played there for England at the Euros that ended with a loss to Iceland.
New United manager Jose Mourinho has returned Rooney to the No. 10 role this season, and Allardyce said "that's the sort of position I'd be looking for him to be playing in."