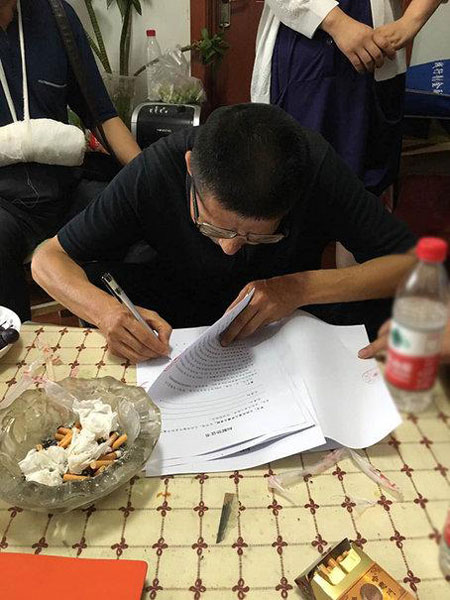 An undated photo shows Liu Lingli's father signing settlement deal. [Photo: Youth.cn]
The Dean, Chen Ling, along with other staff from Lanzhou Jiaotong University Bowen College, visited the home of English teacher, Liu Lingli, on August 23, to issue another apology to Liu's family for firing the teacher after she was diagnosed with cancer.
According to a report by the China Youth Daily, the university reached a settlement with Liu's parents to pay an extra 500,000 yuan in compensation.
They offered 72,000 yuan in compensation on Tuesday, as well as an offer to reinstate the employment contract, and a promise to pay the money within two days.
The school also reversed the contract termination of another teacher who is suffering from tumors and who was sacked at the same time as Liu, the China Youth Daily report said.
Earlier media reports revealed that Liu was diagnosed with ovarian cancer in the middle of 2014.
She was fired in January 2015 from the university after taking a half-year leave of absence for treatment, which led to a suspension of her medical insurance.
Liu latter filed suit with a local court, which ruled the school's decision to terminate her contact was invalid, but the school never enacted the court decision.
She died of complications resulting from her illness on August 14.
Liu's treatment has cost her family over 400,000 yuan, with the family's total income only amounting to 3,700 yuan per month.
Questions have been raised over what people can do who are in a similar situation to Liu, and who are faced with large medical bills that they are unable to afford.
China launched a critical illness insurance pilot program back in 2012, in a bid to protect people from falling into poverty because of serious illness such as cancer.
But the program is still beset with many shortcomings.
The average coverage ratio of the insurance is only 50 percent, and the insurance does not cover a large number of the expensive OTC drugs which are necessary in the treatment of critical diseases such as cancer.
The government has also failed to raise enough funds for the program.
An official with the Ministry of Civil Affairs said that according to estimates, the program requires 36.7 billion yuan (around 5.5 billion U.S dollars), but the government only allocated 14 billion yuan to medical aid in 2014.