Chinese athletes are among those who suffered the most from doping during the Olympic Games, as they were cheated out of ten medals since 1968 due to competitors doping , according to a report by the New York Times.
Meanwhile, the country's Olympians never had to surrender one medal because of analeptics usage during the same period.
In the report, China topped the list of net medal difference due to doping with ten upgraded medals and no stripped medals.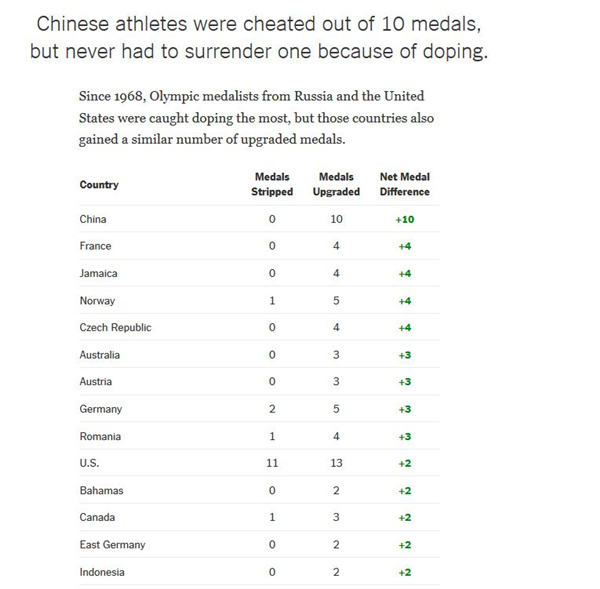 China tops the list of net medal difference compiled by the New York Times.
The statistics were based on International Olympic Committee (IOC) statements as of June 2016.
When an Olympic medalist is caught doping, any medals he or she has won are usually ordered to be returned and awarded to the next finisher in line, the report said. But sometimes upgraded athletes won't get their medals until long after the Olympic medals ceremony.
According to rules, the IOC can hold the athletes' urine samples for up to 10 years, and can thaw the urine for a retest any time during that window.
Statistics shows that since 1968, in at least 25 cases athletes didn't get their deserved gold medals until later. In at least 41 cases, athletes were upgraded to the silver medal and in at least 54 cases, athletes were upgraded to a bronze.
One example is US track star Marion Jones, who was stripped of all five of her medals, three gold and two bronze, seven years after the 2000 Summer Olympics. That ultimately affected the standing of seven other athletes.