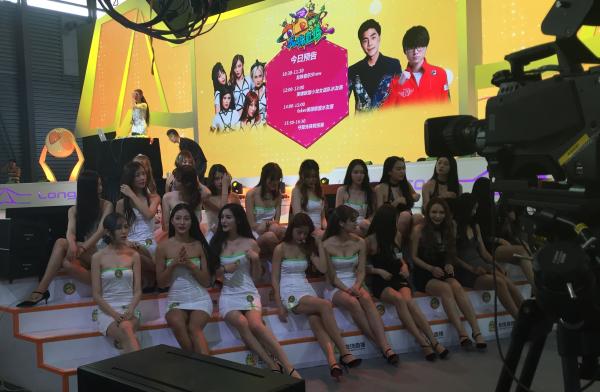 (Photo/thepaper.cn)
ChinaJoy, Asia's largest digital entertainment expo, kicked off on July 28. The major event, which gathers gamers, anime fans, cosplayers and showgirls, will this year enforce a stricter dress code for the showgirls, who in past years have donned very revealing outfits. The new rule states that they cannot reveal "more than two centimeters of cleavage." However, there were still some attendees in violation of the code.
The primary purpose of ChinaJoy is to exhibit digital games and entertainment devices, but the scantily clad showgirls have also been a major attraction at previous expos. Part of the motivation for enforcing a stricter dress code was to redirect the focus of the conference back to digital games.
According to the new code, the models are not allowed to wear outfits that expose their undergarmets. In addition, they cannot wear bikinis or similar outfits without some form of covering garment, and they must wear underwear beneath their outer garments. The showgirls' chests must be fully covered by opaque materials. The top of their pants should come to above their belly buttons and their hips are not allowed to be exposed.
On the opening day of the conference, most exhibitors obeyed the code. However, long, exposed legs could still be seen everywhere, and some of the models were dressed in clothing that violated the rules about exposed cleavage. Some exhibitors said that the dress code would surely impact the popularity of booths, because many visitors come primarily for the showgirls.
"We wore bikinis and short skirts before the new dress code was released. Now we can only wear dresses that cover our chests," complained one model.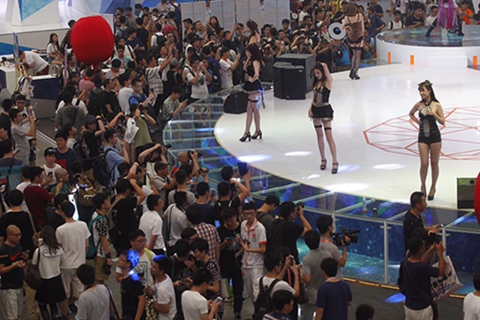 (Photo/thepaper.cn)
But not all the showgirls miss the revealing outfits. Some see their primary task at the event as guiding visitors and solving logistical problems, for which the skimpy outfits are not necessary.
Given that past expos have attracted a significant number of attendees who come just to take photos of the showgirls, some guests unsurprisinly expressed disappointment with the new, stricter dress code.