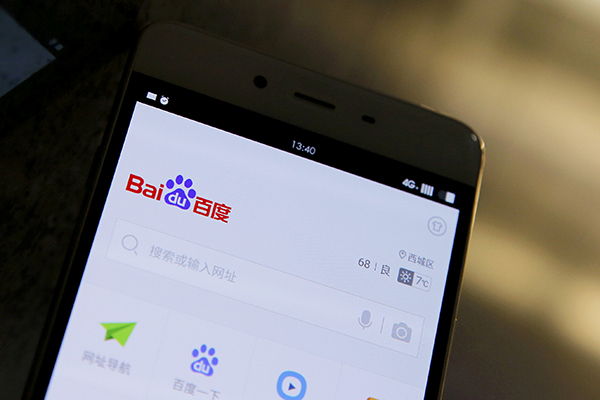 A smartphone showing the Baidu Browser application is seen in this picture illustration, February 22, 2016. (File Photo)
Search engine giant hopes the move will spur its development in internet finance
Baidu Inc has invested in a US financial technology company to transform its massive search data into credit scores, a move to fuel its development in internet finance where the Chinese online search giant trails behind its rivals Tencent Holdings Ltd and Alibaba Group Holding Ltd.
Los Angeles-based ZestFinance Inc, which uses machine learning to transform vast amounts of complex data into credit scores, said on Monday that it had received a strategic investment from Beijing-based Baidu. Baidu did not disclose the details of the investment.
According to a statement from ZestFinance, the two will work together to apply ZestFinance's underwriting technology to Baidu's search, location, and payment data in order to improve credit-scoring decisions in China.
By investing in one of the fastest-growing financial technologies in the United States, Baidu is looking to build a credit score system that can be equivalent to Alibaba's Sesame Credit Management and Tencent Credit Reporting Co, said analysts.
Li Chao, an analyst with the Beijing-based iResearch Consulting Group, said Baidu is keen to catch up in internet finance services as both of its rivals-Tencent and Alibaba-have gained private banking licenses and licenses to provide consumer credit information services.
"Search data are the most precious asset Baidu has. Through cutting-edge technology, the machines may be able to find the connection between people's search requests and their credit," he said.
Baidu doesn't have a license to provide consumer credit information services, but it can still provide such credit rating to third-party financial service providers or use it in providing small loans itself, which is seen as a new way for Baidu to monetize its search data.
The Nasdaq-listed Baidu said in an e-mail to China Daily that it is uniquely positioned to play a transformative role in the internet finance sector. "For example, we can use big data to quickly evaluate credit risk and provide more accurate user profiling, and have begun working with hundreds of educational institutions to provide credit loans to their students," it said.