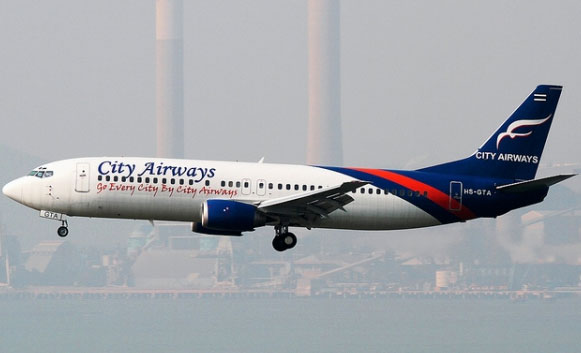 An undated photo shows a plane of Thailand's City Airlines is in a flight. [Photo: jiemian.com]
A group of travel agencies in south China's city of Shenzhen have issued a joint statement against Thailand's City Airways, boycotting the airline for its unilateral decision earlier this year to cancel flights.
Thirteen travel agencies in Shenzhen said they will not buy any tickets, sign any agreements, or establish any business partnerships with City Airways.
The recent statement comes after failed attempts by the agencies to reach a mutually agreed solution with the airline.
On February 12, City Airways cancelled all of its flights to Hong Kong for the following two days without offering any explanation, a decision that stranded over 1,600 tourists.
The Thai airline later cancelled all flights after February, disrupting travel plans of many other tourists.
The agencies and the Shenzhen Tourism Association have since attempted to establish contact with City Airways but have not received any responses.
Stats from the Shenzhen Tourism Association show the agencies suffered an estimated loss of 10 million yuan due to the unexpected flight cancellations.
These agencies are mulling over launching a transnational legal action against City Airways.
The cancellation also led the Thai civil aviation authority to ground the airlines saying the company's huge financial debt was the reason.
The airlines started operations in 2011 and all its routes flew between Thailand and Hong Kong.
The company earlier also operated flights to the Chinese mainland but was banned from flying into the mainland due to lack of payment of fees owed to airports there.