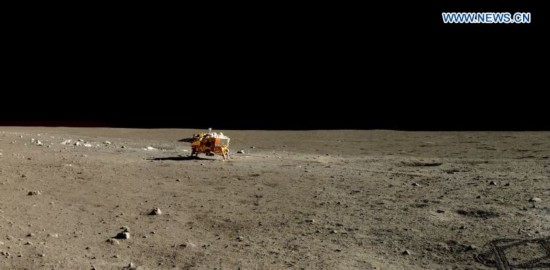 Photo provided by National Astronomical Observatories of Chinese Academy of Sciences shows a high-resolution image of lunar surface on the moon. The image is shot in April by Chinese Chang'e 3, an unmanned lunar exploration probe, and Yutu rover. [Photo: Xinhua]
China will probe the moon's north and south poles to further enhance the country's aerospace development, according to the State Administration of Science, Technology and Industry for National Defense on Friday.
It will be the first time that a Chinese probe will land on the moon, collect samples and return to Earth.
The probe will be conducted after sending lunar probe Chang'e 5 to land on the moon to collect lunar samples in the second half of 2017.
The first stage of lunar expedition was achieved by sending Chang'e 1, a circumlunar satellite, in 2007. China landed its first lunar probe Chang'e 3 on the surface of the moon in 2013.
China is also planning to be the first country to land on the far side of the moon. That mission will be carried out by Chang'e-4, a backup for Chang'e-3, and is due to be launched in 2018.
The country will also carry out a series of moon probing activities based on the previous technology accumulation.