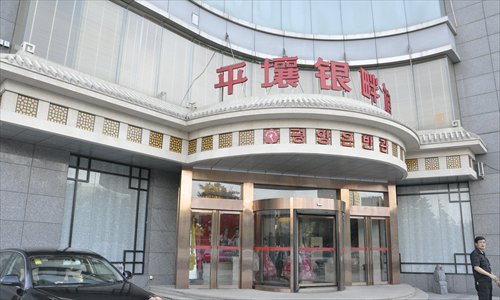 Pyongyang Yinpan Restaurant, a luxury North Korean chain restaurant in Xi'an, Shaanxi Province, remains open on Tuesday. Several North Korean staff have reportedly fled from this restaurant. Photo: Li Ying/GT
After a second escape of staff from a North Korean restaurant in China, observers said the eateries, a major source of foreign currency for Pyongyang, have been affected by UN sanctions, China's anti-hedonism rules and Seoul's opposition to its citizens patronizing those restaurants.
South Korea's unification ministry said Tuesday that a small number of North Korean restaurant employees had fled their workplace in China, the second such case inside two months.
The North Koreans are currently in a third country in Southeast Asia after running away from a North Korea-run restaurant in Xi'an, capital of Northwest China's Shaanxi Province, Yonhap News Agency reported, citing an unnamed source familiar with inter-Korean affairs.
The source claimed that two or three employees escaped.
The South Korean Embassy in Beijing declined to provide more details regarding the latest case when reached by the Global Times on Tuesday.
The runaways were allegedly employed at Pyongyang Yinpan Restaurant, which was still open on Tuesday when a Global Times reporter visited, but interview requests were turned down by a Chinese man who appeared to be the restaurant manager.
The restaurant charges 1,327 yuan ($202.5) per person on average, according to group purchasing website dianping.com, with a minimum charge of 688 yuan, a price considered high in China.
Knock-on effect
This is reportedly the second escape by North Korean restaurant workers after 13 workers from a restaurant in Ningbo, East China's Zhejiang Province fled to South Korea in April.
A South Korean unification ministry official, who asked not to be named, said that the April case may have affected the latest one, Yonhap reported.
"The escapees may have run away after being affected by the defection case in April. It's likely that management of North Korean employees was toughened to prevent more defections. Such workers are already under strict management. For example, they are only allowed out in groups," Jin Qiangyi, director of the Asia Research Center in Yanbian University in Northeast China's Jilin Province, told the Global Times on Tuesday.
An expert on North Korean studies, who requested anonymity, told the Global Times that their restaurant operations in China have come under great pressure, especially in the wake of UN sanctions against Pyongyang and pressure from the South Korean government to stop South Koreans from visiting the restaurants, while China's anti-hedonism rules have also discouraged some Chinese customers from dining at the expensive restaurants.
North Korean restaurants overseas are often asked to remit a large chunk of money from their revenue as "loyalty money" to Pyongyang, Jin added.
South Korean government sources have estimated that North Korea is running about 130 restaurants in 12 countries, including China, Vietnam and Cambodia, earning $10 million annually, according to Yonhap.
Chinese foreign ministry spokesperson Lu Kang said at an April press briefing that the 13 North Koreans crossed the Chinese border with valid passports.
Authorities are yet to confirm whether the latest runaway North Koreans also used valid documents.
"North Korean restaurants only hire employees agreed by Pyongyang. It is therefore very likely that the latest runaways also hold valid passports as their travel was agreed by both Beijing and Pyongyang. There's no justification to blame China for not interrupting their travel within and exit out of China," said the anonymous expert.
Most North Korean restaurants in China are operated with Chinese investment and North Korean employees, Hong Kong-based magazine Phoenix Weekly reported, citing an anonymous businessman who has cooperated with North Korea for years.
The employees often go through at least six months' training in etiquette, language and confidentiality, the magazine added.
China has become a transit point for North Koreans, who enter and exit the country illegally on their way to countries in Southeast Asia, like Laos, or Mongolia, before traveling on to South Korea. Southeast China's Yunnan Province is often used for these illegal border crossings, said Jin.