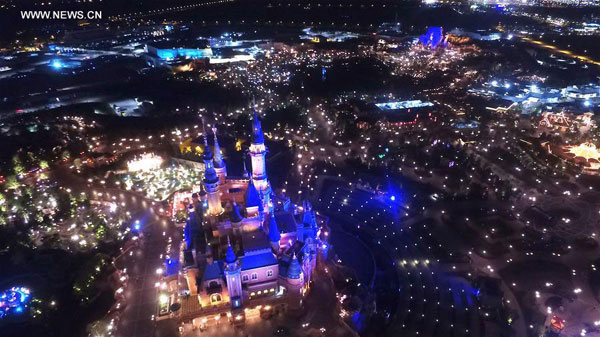 Aerial photo taken on May 17, 2016 shows the night view of Shanghai Disney Resort in Shanghai, east China. Shanghai Disney Resort, Asia's biggest Disneyland, will open to public on June 16, 2016. [Photo: Xinhua]
It's reported that tickets for Shanghai Disneyland have been booked-out for the first 2 weeks after the theme park opens to the public next month.
Tourists who want to visit the park in Pudong New District can still book tickets for later dates including July, August and September.
Regular price of admission has been set at 370 yuan, or around 56 U.S. dollars, while peak pricing for holidays and weekends is set at around 500 yuan, same as the prices for the 15-day opening period following the park's grand opening.
Nearly a million people have already visited the Shanghai International Tourism and Resorts Zone, the home of Shanghai Disneyland, as part of a 23 trial operation period.
110 thousand visited during the 3-day May Day holiday period at the beginning of this month.
Visitors are being advised to use public transport to reach the new resort. The Disney Station on Shanghai's Metro Line 11 has been up and running since the end of April.
Li Guirong, director of the public security bureau in Pudong New District, says services are also being provided for those who wish to take buses or drive in person.
"We will provide the tourists with the information concerning road conditions or the availability of parking space at the car park through a variety of channels, such as navigation system, radio, Wechat, weibo or traffic signs. We will also send the police to relieve traffic congestion or even carry out segregation methods."
He added that contingency plans have also been drawn up to cope with the potentially massive tourist flow.
"We have launched investigations at some of the key points, such as the entrance and exit of Metro Line 11's Disney Station, the public square in front of the Disneyland, as well as some bridges inside the zone. These places are most likely to embrace massive crowds and heavy traffic volumes, so we have formulated evacuation plans and carried out several drills to ensure the tourists' security during emergencies."
Shanghai Disney Resort is set to open on June 16. It is Disney's sixth resort destination worldwide - the 5 other parks are located in California, Florida, Tokyo, Paris and Hong Kong.