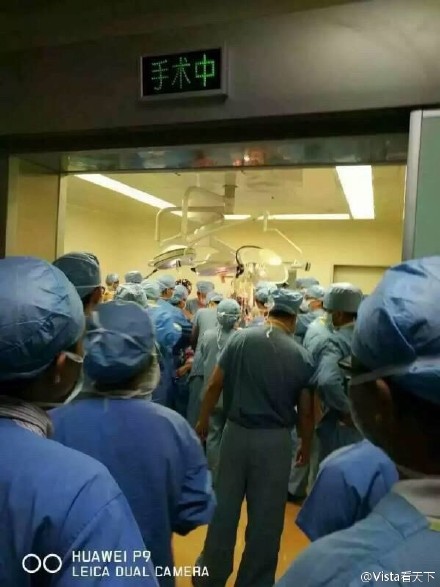 A photo circulating online shows Chen's colleagues give him emergency treatment after the incident occured on May 5 in Guangzhou, south China's Guangdong province. [Photo: weibo.com]
A retired doctor in south China's Guangdong Province died on Saturday after being stabbed in a knife attack by a former patient on Thursday afternoon.
Chen Zhongwei, former director of the stomatology department of the Guangdong General Hospital, who had fallen into a coma after suffering life-threatening injuries, died at 12:39 p.m. after 43 hours of emergency treatment, the hospital announced.
Chen was attacked around 5:20 p.m. Thursday, according to police in Yuexiu District in the provincial capital Guangzhou.
After the stabbing, the male attacker jumped from the balcony of Chen's home and fell to his death, an initial police investigation showed.
Chen's wife also suffered injuries in the incident, police said.
The hospital confirmed that the man received medical treatment from Chen 25 years ago and had a history of mental disorders.
Violence against medical staff has made headlines in recent years, underscoring strained doctor-patient relations in China.
In March 2014, a doctor at the Chaozhou Central Hospital in Guangdong Province was forced to march as a form of public shaming by relatives of a patient whose life the doctor failed to save.
In February 2014, a doctor in northeast China's Heilongjiang Province was beaten to death by a patient.
【1】
【2】