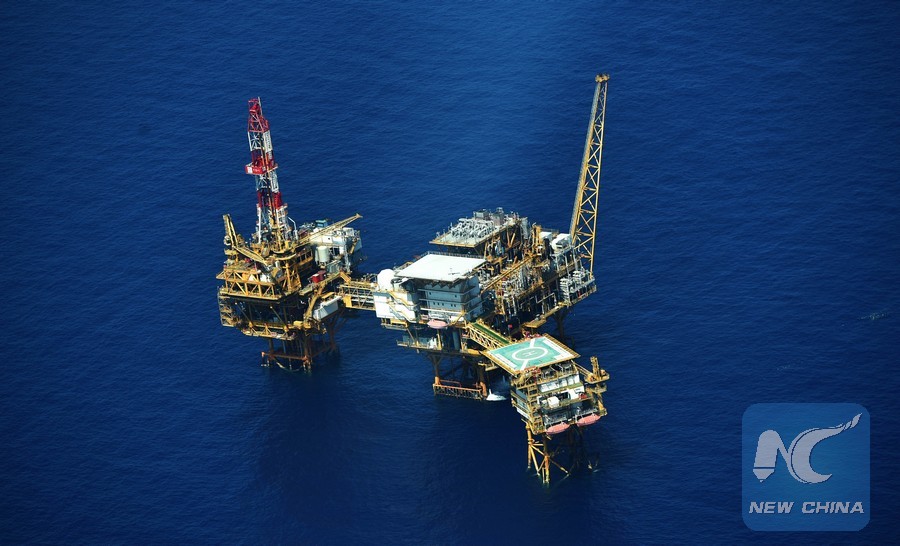 An aerial photo taken on Sept. 25, 2015 from a seaplane of Hainan Maritime Safety Administration shows the Yacheng 13-1 drilling rig during a patrol in south China Sea.(Xinhua/Zhao Yingquan)
BEIJING, May 6 (Xinhua) -- The Philippines' unilateral attempt at arbitration over South China Sea disputes is not a real attempt to find a solution, but pursuit of selfish gains in the name of "rule of law."
The core of the Beijing-Manila South China Sea dispute is territorial issue, caused by the illegal occupation of some of China's islands and reefs since the 1970s by the Philippines, and the issue of maritime delimitation.
The arbitration violates the basic principles of international law and undermines the integrity and authority of the UN Convention on the Law of Sea (UNCLOS).
The court has no right to adjudicate on the case as in 2006, China exercised its right under Article 298 of the UNCLOS and made a declaration excluding compulsory arbitration on disputes concerning maritime delimitation.
The UN Charter and international law advocate peaceful settlement of disputes through dialogue and negotiation. The UNCLOS respects the dispute settlement procedure chosen by the parties themselves.
Meanwhile, the Declaration on the Conduct of Parties in the South China Sea (DOC), signed by China and ASEANcountries, stipulates that disputes be resolved through consultation and negotiation by those directly concerned.
Therefore, China has sound reasons to reject compulsory arbitration. Whatever the result of the arbitration, it will not be binding on China.
The Philippines has distorted and abused the international arbitration mechanism, and reneged on its promise to solve disputes through negotiation.
It is also an outright lie to say that "all bilateral tools have been exhausted."
China and the Philippines have conducted several rounds of consultations on building trust, managing disputes and promoting maritime cooperation and, during these occasions, the Philippines has never talked with China about any of the appeals it mentioned in the arbitration case.
As Chinese Foreign Minister Wang Yi pointed out, attempts to pressure China over an arbitration of maritime disputes is "either political arrogance or legal prejudice."
It doesn't hold water to say that filing for an arbitration is upholding international law, while not accepting arbitration violates international law. This is not viable in international practice.