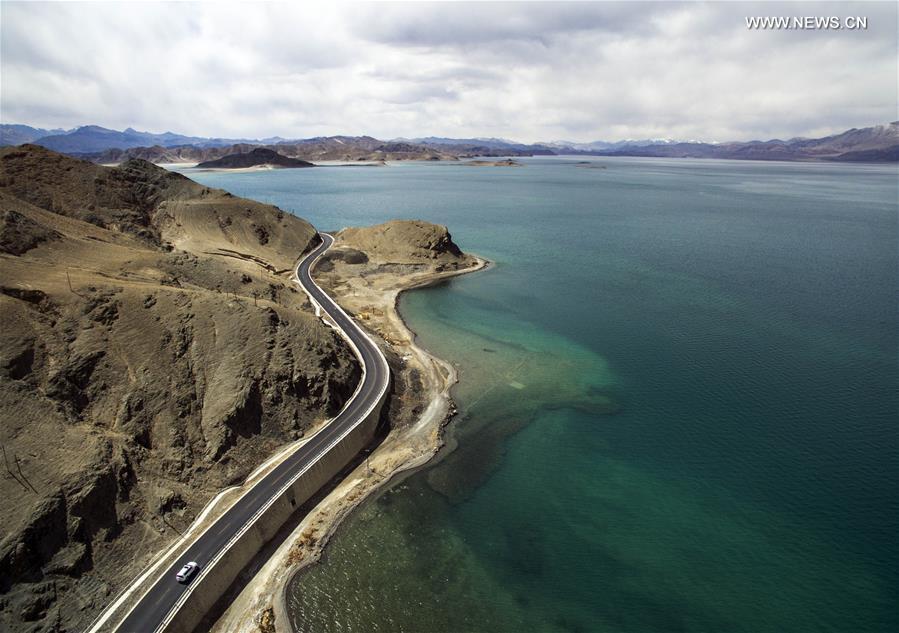 URUMQI, May 3, 2016 (Xinhua) -- Photo taken on April 28, 2016 shows the Xinjiang-Tibet Highway running along the Bangong Lake in northwest China's Xinjiang Uygur Autonomous Region. As one of the world's highest motorable roads, Xinjiang-Tibet Highway, or China National Highway 219, connects Xinjiang and southwest China's Tibet Autonomous Region with an average altitude of over 4,500 meters. Originally made of graval in 1950s, the 2,340-kilometer highway was fully paved with asphalt in 2013. (Xinhua/Jiang Wenyao)
URUMQI, May 6 (Xinhua) -- It is still chilly on the Tibetan Plateau, but with "lixia" falling on Thursday, the beginning of summer in the Chinese lunisolar calendar, the mouths of local herdsmen are watering.
It is the melon season in neighboring Xinjiang Uygur Autonomous Region, fresh fruit is stacked up at the roadside, waiting to be ferried through the Kunlun Mountains and up to the plateau along the Xinjiang-Tibet Highway.
"Less than a decade ago, a kilogram of melon could sell for 60 yuan (about 10 U.S. dollars) on the plateau. Last year the price was just a little over 10 yuan," said Zhang Lei, head of an armed police transport detachment stationed in Ritu County along the highway.
National Highway 219 connects Xinjiang and Tibet at an average altitude of over 4,500 meters and is the world's highest road suitable for ordinary vehicles.
Originally covered by gravel in 1950s, the 2,340-kilometer highway was almost fully paved by 2013, slashing the travel time between Yecheng County in southern Xinjiang and Ngari Prefecture in Tibet from 15 days to just one day, with another day to reach Lhasa. Accidents and fatalities also decreased dramatically.
Transport police officer Luo Bing has worked on the highway for over 15 years. There were hardly any asphalted roads at all when he first came to Ritu and now the town has two wide streets filled with restaurants and shops.
About 700 kilometers down the highway from Ritu, Song Shibing, chief of a transport police troop, has seen dramatic changes in the lifestyles of local people. Back in 2003, he tried to buy an axe from a herdsman for 100 yuan (several times the price of an axe in a shop), but the herdsman refused his money and brandished an empty 5-liter bottle instead. He wanted diesel.
"Money meant almost nothing on the plateau as there was almost nothing for sale," Song said. "Local people usually kept their money in a wooden box under the bed and sometimes dried their moldy old notes in the sun."
Since the capacity of the road increased and it became much safer to drive, vegetables, fruit and necessities have arrive on the plateau almost every day. Many herders have taken their money from under their beds and deposited it in a bank.
Tuo Jide, a retired armed transport police driver, has run a restaurant in Xihexiu Village next to the highway for 17 years. Business has blossomed since the road was improved.
"Decades ago, the potholes were deep enough for a yak to hide in," Tuo said. "Drivers did not dare to hit the road without plenty of food and gas in their cars. Vehicles crashed and broke down all the time along the way."
With a safe, modern highway, transportation costs from Yecheng to Ngari have fallen by 55 percent, leading to cuts of about 40 percent in the price of commodities in the Tibetan town. Better yet, the number of tourists in Ngari has surged five fold.
"The highway today looks to me like an airport runway -- wide, flat and smooth," Tuo said - a heavenly road, indeed.
【1】
【2】
【3】
【4】
【5】