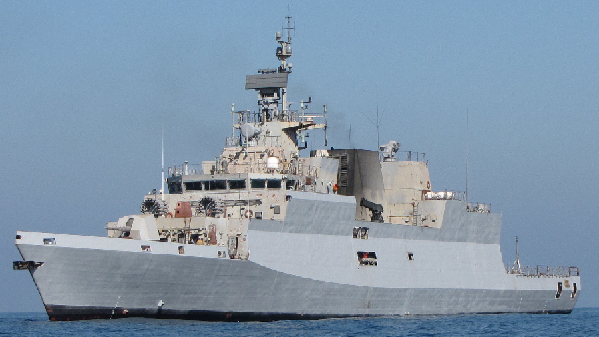 The INS Kamorta of the Indian Navy [Photo courtesy of the Indian Navy thru Wikipedia]
An interesting piece of trivia came up recently, with the Philippines Navy planning to buyIndian Kamorta class of corvettes. Although officially a corvette, this class of warship is comparable to a frigate in its full displacement and weighs 3400 tons with a length of 109 meters. It also comes with 90 percent Indian indigenous tech and weaponry, including Oto Melara guns, Revathi radars, ASW guns and gatling guns, as well as missiles. Alongside this fact is that it is the simply the cheapest tender Indians offered.
The Indian Navy itself is currently operating two corvettes of the class, INS Kamorta and INS Kadmatt, both in a specific place in the Bay of Bengal for anti-submarine warfare. Two other corvettes were already launched for the Indian Navy and are expected to be commissioned within the second half of 2016 and before 2017 ends, and it is understood that, besides India, only Chinese subs operate in the Bay of Bengal.
This is an interesting development for the South China Sea (SCS). We have recently seen that Australia also gave a major boost to the Philippines, providing three heavy landing crafts. This also falls in line with the standard training of Indonesian and Vietnamese soldiers and officers, being trained for India and Vietnam's latest actions in the region.
So, why these specific warships and why now? Firstly these ships were developed by India because the Chinese navy has become a powerful enough force to be near the Bay of Bengal and Arabian seas. Chinese ships began patrolling the Indian Ocean and even berthed in Sri Lanka, something the Indians didn't take too kindly. But on the other hand, India and China were also both engaged in anti-piracy operations, and for that reason Chinese ships had reasons to be berthed in the Arabian Sea. Now, the Indian corvettes are Soviet in design, and were lacking in certain capabilities. So India started developing these new ships which would carry the firepower and sea lift capability of a frigate, while also being able to operate in shallow littoral waters as submarine hunters.
It is specifically for these roles that the Philippines are buying these ships, which are most likely going to be used as a deterrent against submarines. As Filipino elections are coming, it is pivotal for the regional security situation. The Philippines, as we know, are a frontline state, due to geographical and - in the eventuality of any conflict - even military competition. The Philippines will have to choose sides, regardless of what it wants or seeks.
【1】
【2】