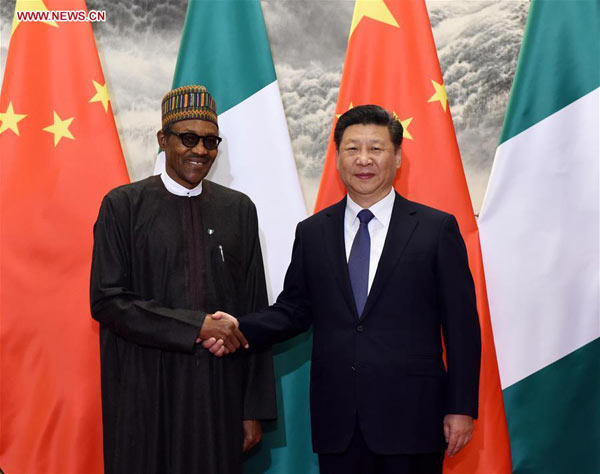 Chinese President Xi Jinping (R) holds talks with Nigerian President Muhammadu Buhari in Beijing, capital of China, April 12, 2016. [Photo/Xinhua]
Lin Songtian, director-general of the Foreign Ministry's Department of African Affairs, said the deal was "a big one", without giving details.
Another five agreements were signed covering areas ranging from production capacity to aviation cooperation.
Lin said, "This is an important visit in the history of China-Africa relations." He said the two nations' foreign ministers will hold a reception on Wednesday to celebrate the 45th anniversary of diplomatic ties, a rare arrangement during the visit of a foreign leader.
"Nigeria is seeking to enhance mutual economic cooperation with China through the visit to help accelerate Nigeria's industrialization and agricultural modernization," he said.
Nigeria has a large land area but is still seeking grain security, Lin said, adding that this will be a priority for cooperation between Beijing and Abuja.
Buhari told Xinhua News Agency before the visit that China has the technical and financial capacity, the development experience and the goodwill to help Nigeria.
"So, really, this is an opportunity Nigeria cannot afford to lose," he said.
【1】
【2】
【3】