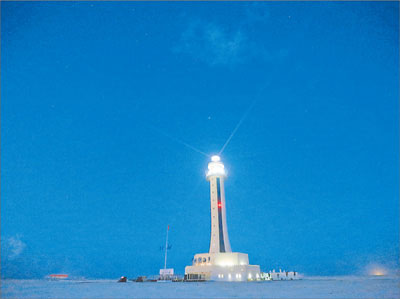 The photo taken on April 5, 2016, shows the Zhubi Lighthouse in South China Sea [Photo: Xinhua]
A lighthouse on Zhubi Reef, in the South China Sea, has been put into operation.
The 55-meter-high lighthouse was initiated in October 2015, with a lantern of 4.5 meters in diameter on top and rotating lights inside. It is monitored through a Beidou remote control terminal.
Zheng Heping with the Ministry of Transport attended a completion ceremony for the lighthouse.
"To improve its navigation management, the lighthouse is equipped with automatic identification system and very high frequency stations, which will provide efficient navigation services such as positioning reference, route guidance and navigation safety information to ships."
The South China Sea is a critical maritime corridor linking the Pacific and Indian oceans, as well as a major fishing ground.
However, high traffic density, complex navigation conditions, and a severe lack of emergency aid and response forces, have hindered economic and social development in the region.
To improve maritime emergency responses in the area, China's Ministry of Transport started construction of large multi-functional lighthouses last year.
Zhubi is the third to be completed and put into operation. The lighthouses will help in maritime search and rescue, in the prevention and elimination of natural disasters, as well as marine environmental protection and navigation safety.