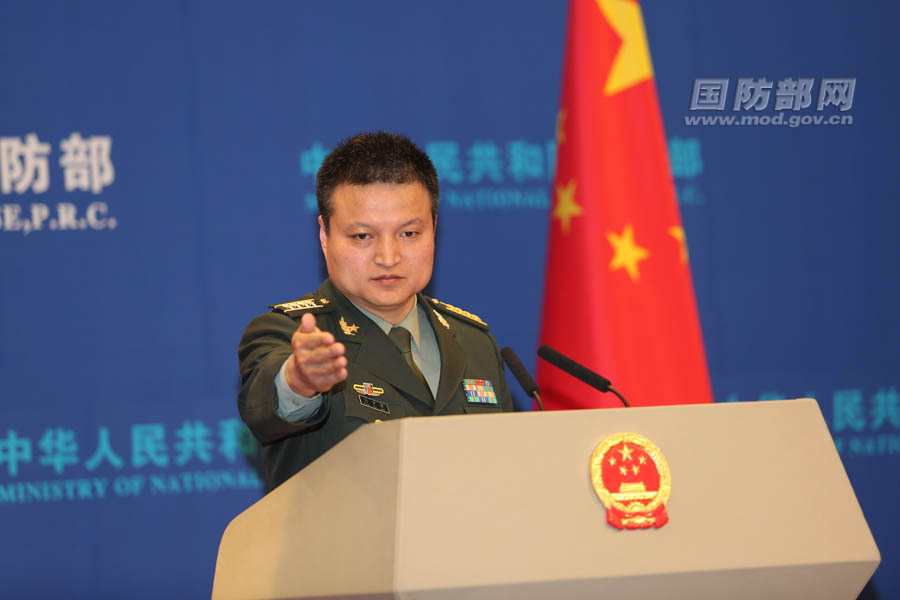 Chinese Defense Ministry Spokesperson Yang Yujun reacts at a regular briefing in Beijing on Thursday, March 31, 2016. [Photo: mod.gov.cn]
China's Defense Ministry is expressing frustration at speculation it will declare an Air Defense Identification Zone in the South China Sea.
Spokesperson Yang Yujun says if an ADIZ is established in the South China Sea, it is within China's right to do so.
"We have stated our position on this many times when it comes to the establishment of an Air Defense Identification Zone in the South China Sea. What needs to be reiterated is that sovereign states have the right to set up an ADIZ. This is why there is no need for other countries to gesticulate."
The comments come a day after a US Defense Department official went on-record saying the US will not recognize such a zone in the South China Sea.
China imposed an ADIZ over the East China Sea three years ago, requiring aircraft flying through the area to identify themselves.
Meanwhile, the Chinese Defense Ministry has also confirmed the establishment of a dedicated unit to coordinate "non-war" activities overseas, such as evacuations from conflict zones.
"In recent years, as our national and military strength has increased. This has seen the Chinese military participate many times in overseas military actions to fulfill our international responsibilities and obligations."
The new "non-war" unit will be responsible for coordinating peacekeeping missions, evacuations and joint military drills.
The Chinese navy has been actively taking part in anti-piracy patrols in the waters off the Horn of Africa.
It's also been involved in the evacuation of Chinese citizens and other foreigners from conflict zones.
New legislation also allows Chinese forces to go overseas to take part in anti-terror missions.