'A prosperous and stable neighbor serves China's best interests'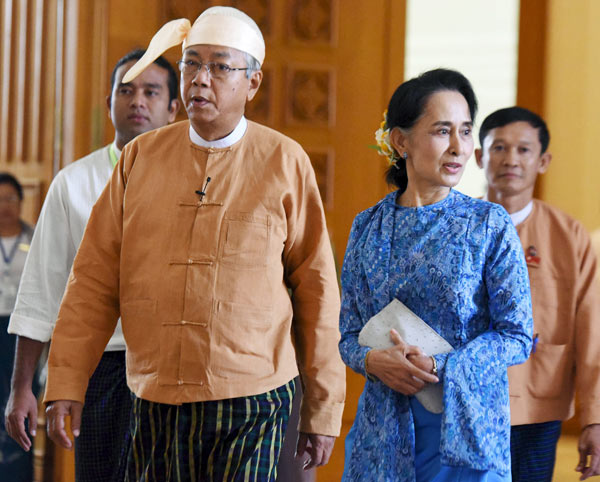 Myanmar's new president U Htin Kyaw and National League for Democracy party leader Aung San Suu Kyi arrive at parliament for the presidential inauguration ceremony in Naypyitaw on Wednesday. Stringer / REUTERS
Ties between China and Myanmar will embrace an even brighter future after Myanmar's political transition, according to the Chinese ambassador to the Southeast Asian nation.
Hong Liang said a stable and economically prosperous Myanmar also contributes to China's economic and security interests.
"When our two countries established diplomatic ties, we decided to take the Five Principles of Peaceful Coexistence, which have become internationally recognized norms governing nation-to-nation relations, as a guide to our bilateral ties. We will continue to uphold these principles," the ambassador said.
Hong made the remarks in an interview with China Daily in Yangon before U Htin Kyaw was sworn in as the country's new president on Wednesday.
U Htin Kyaw, from the ruling National League for Democracy, won the presidential election on March 15 through a secret ballot held by a NLD-dominated parliament.
There are high expectations that he and his party will push for domestic national reconciliation as well as boost economic and social development to improve people's livelihoods.
The presidential inauguration ceremony was held in Naypyitaw, Myanmar's capital.
The NLD, led by its leader Aung San Suu Kyi, swept to victory in elections in November.
Since then, ways in which the NLD will lead Myanmar onto a better road to development and handle its relations with key international partners, including China, have been in the regional and global spotlight.
Sharing a border of more than 2,000 kilometers, China and Myanmar have maintained good-neighborly ties for more than six decades.
A new government in Myanmar is widely perceived by both countries as a good opportunity for them to re-engage and reconnect with each other.
【1】
【2】
【3】