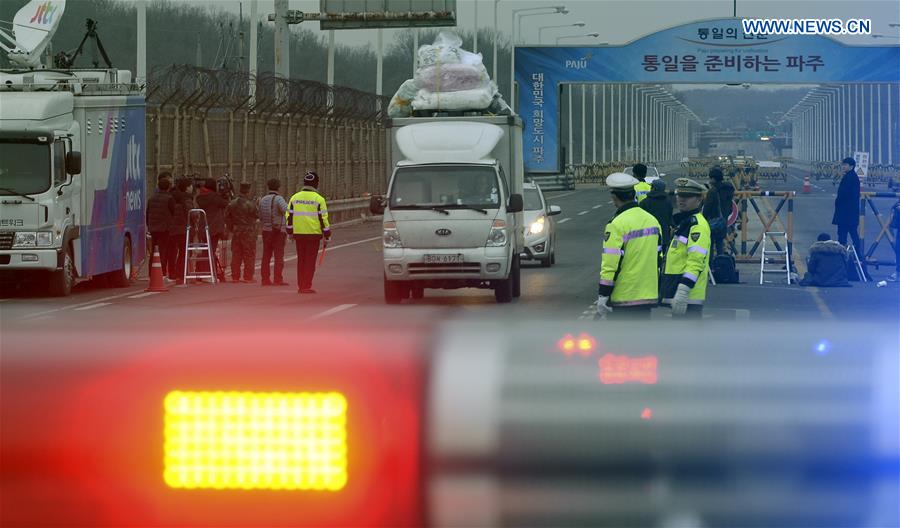 South Korean vehicles from the Kaesong Industrial Zone (KIZ) pass the customs, immigration and quarantine office in Paju, South Korea, Feb. 11, 2016. (Xinhua/NEWSIS)
PYONGYANG, Feb. 11-- The Democratic People's Republic of Korea (DPRK) announced on Thursday that it is expelling all South Koreans from the Kaesong Industrial Zone (KIZ) and closing the joint-run complex.
The DPRK "will expel all persons of the south side in the KIZ till 5 p.m., Feb. 11, 2016," the official news agency KCNA reported, citing a statement released by the Committee for the Peaceful Reunification of Korea (CPRK).
The statement said that the DPRK will "totally block the Military Demarcation Line near the Kaesong Industrial Zone from 10 a.m., Feb. 11, cut off the roads along the west coast in the areas under the control of the north and the south and close the Kaesong Industrial Complex and declare it as an area under military control.
All assets will be frozen including equipment, materials and products of the South Korean enterprises in the complex and the persons to be expelled are not to allow to take things out except for personal belongings, said the statement, adding that the assets will be under the control of Kaesong City People's Committee.
Meanwhile, the military communication and Panmunjom hotline will also be cut off, according to the statement.
It announced that the DPRK workers are leaving the zone on Thursday.
Pyongyang has repeatedly claimed that the hydrogen bomb test was of "self-defensive" nature and the Feb. 7 satellite launch was aimed for peaceful purposes.
The statement condemned Seoul's shutdown of the industrial complex, saying this "provocative" measure is "a declaration of an end to the last lifeline of north-south relations," "total denial of the June 15 North-South Joint Declaration" and "a dangerous declaration of war driving the situation on the Korean Peninsula to the brink of a war."
South Korea on Wednesday announced its plan to shut down a jointly run factory park with the Democratic People's Republic of Korea (DPRK) over Pyongyang's recent nuclear test and long-range rocket launch.
Operations at the inter-Korean industrial zone were thus stopped again in about two and half years after the DPRK's withdrawal of its workers led to the suspension between April 8, 2013 and Sept. 15, 2013.
【1】
【2】
【3】
【4】
【5】
【6】