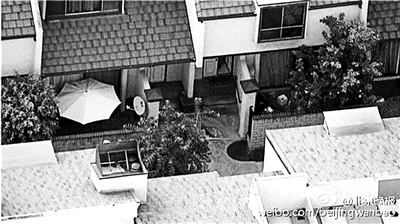 The photo shows a house in Arcadia, California, the United States, where the bodies of two teenage boys were found on Friday, January 22, 2016. [Photo: weibo.com]
A Chinese national, wanted in connection with the killing of two teenagers in the United States, has been detained by the police in Hong Kong.
44 year old Shi Deyun was seized at the airport, after arriving in Hong Kong on Sunday afternoon.
The bodies of the two teenage boys, ages 15 and 16, were found in a house in Arcadia, in the US state of California on Friday.
Local police said they were looking for their uncle in connection with the double homicide. His vehicle was later found at Los Angeles International Airport where he'd caught a flight to Hong Kong.
The tragedy is believed to be the result of a family row. It's understood the teenagers' aunt had filed a restraining order against Shi, and had started divorce proceedings.