Ancient tomb of Northern Zhou Dynasty discovered in Xi'an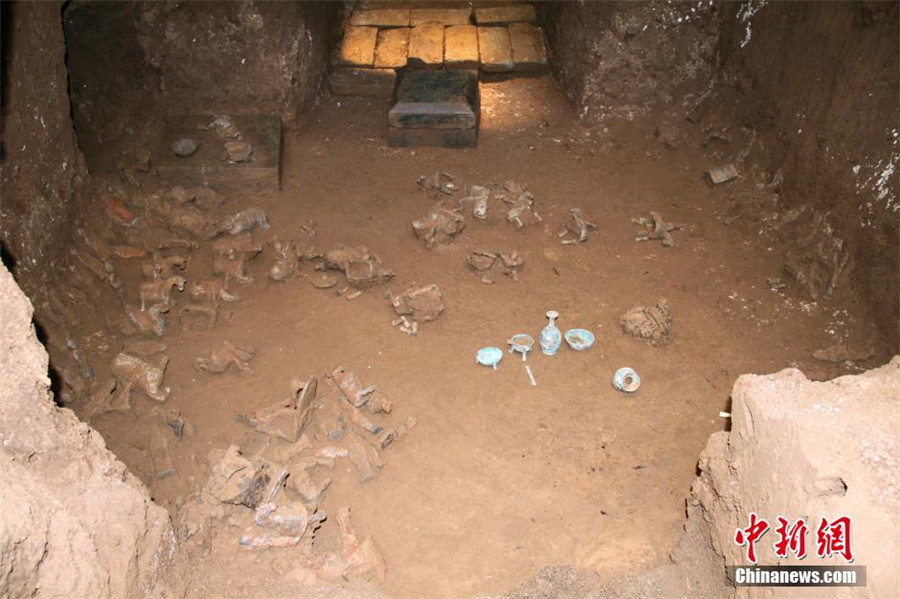 This photo shows the inside of the ancient tomb of the Northern Zhou Dynasty (557-581) discovered in Chang'an district of Xi'an, capital of Northwest China's Shaanxi province. Experts are saying the owner is believed to be a princess of ancient nomads. [Photo/Chinanews.com]
Archaeologists announced on Tuesday that an ancient tomb belonging to the Tuyuhun Huihua Princess during the early Chinese Northern Zhou Dynasty (557-581) was discovered in Chang'an district of Xi'an, capital of Northwest China's Shaanxi province.
According to Shaanxi Provincial Institute of Archaeology, two human skeletons and a total of 166 pieces of burial objects were found inside the tomb. The objects included warrior figurines, bronze wares, and inscriptions.
Based on the information from burial sites, archaeologists concluded that the tomb must belong to the Tuyuhun Huihua Princess of an ancient nomadic tribe in the early Northern Zhou Dynasty (557-581).
Tuyuhun was a powerful kingdom established by nomadic tribes related to the Xianbei in the Qilian Mountains and upper Yellow River valley in ancient China.
Archaeologists said the discovery helps learning the historical changes of ethnic groups in ancient China.
【1】
【2】
【3】
【4】
【5】
【6】
【7】
(Editor:Liang Jun,Bianji)