By Liu Wei, Assistant Researcher, Institute of World Economics and Politics, Chinese Academy of Social Sciences, Comics drawn by Zheng Huawei, Zhao Chunqing, Wang Dongjie
On Dec. 4, Chinese President Xi Jinping and South African President Jacob Zuma chaired the opening ceremony of the Johannesburg Summit of the Forum on China-Africa Cooperation (FOCAC). Presidents, government officials from 50 African countries and African Union Commission (AUC) Chairperson had joined in attendance.The venue was permeated with a joyful atmosphere.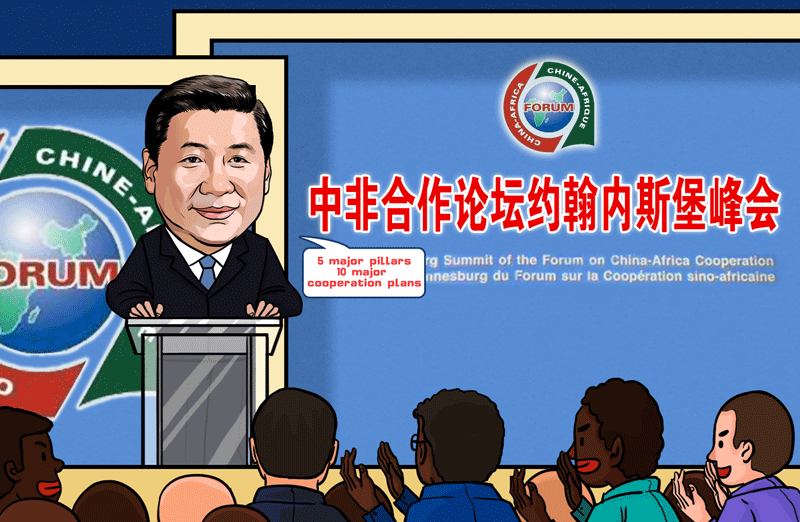 Xi delivered a speech to announce that his country and Africa would lift together a comprehensive strategic cooperative partnership.
Xi proposed "five major pillars" to consolidate China-Africa relations and will implement 10 major plans for the upcoming three years, which deserves applause.
Two years ago, Xi had proposed equality, practicability, commitment and sincerity in China-Africa cooperation.
Beijing's five major pillars and 10 cooperation plans reflect extraordinary expansion of China-Africa friendship. "Five major pillars" is raised from a strategic advantageous position, covering a wide range course for China-Africa relation's development.
10 major cooperation plans provide a long list of China-Africa pragmatic cooperation that reflects Chinese people's practicability and sincerity to their African bothers and sisters.
From the 2006 Beijing Summit to the Johannesburg summit, FOCAC has experienced 15 years of ups and downs for a new stage of development.
Johannesburg would be another starting point to open a new chapter in China-Africa cooperation.