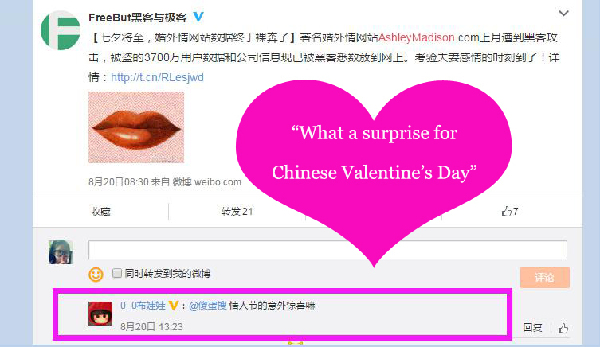 Screenshot taken from Sina Weibo, the Chinese version of Twitter
by Zhang Dan
BEIJING, Aug. 21 (Xinhuanet) -- AshleyMadison.com, a website that facilitates hook-ups between would-be adulterers, has come under the spotlight after hackers allegedly released the stolen information of more than 36 million user accounts on Tuesday.
The hacking incident has gone viral on the Internet in China.
The leak of information occurred just two days before the traditional Qixi Festival, or Chinese Valentine's Day, which falls on the seventh day of the seventh month on the Chinese lunar calendar.
A user of Sina Weibo, the Chinese version of Twitter, said, "what a surprise for the Chinese Valentine's Day!"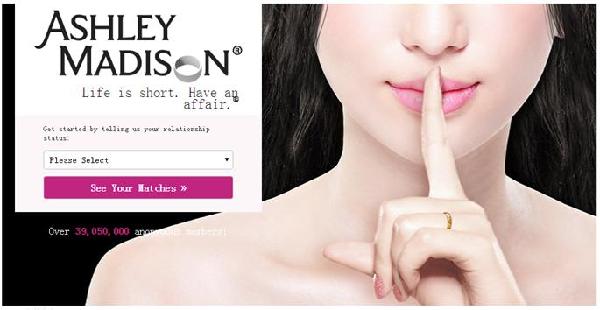 Homepage of AshleyMadison.com
The hackers naming themselves the "Impact Team" demanded the Avid Life Media, owner of the website, take down the site together with its companion site Established Men.
The act of those hackers won applause from some Chinese netizens. One of them said, "we need hackers with morality."
But there are also some divergent voices as a reply described the act of taking revenge on the website as despicable, which "ruined the lofty image of hackers in his/her mind".
With the slogan of "Life is short. Have an affair", the website currently claims to have attracted nearly 40 million users.
Dismayed by so many marriage infidelities, a netizen exclaimed, "where is mutual trust between people?"
The hackers released a "read-me" note together with a file nearly 10 gigabytes in size on Tuesday after the website owner defied their previous warning. Such a move has left the site's operators and customers restless, and life might have gotten worse for some cheaters.
【1】
【2】