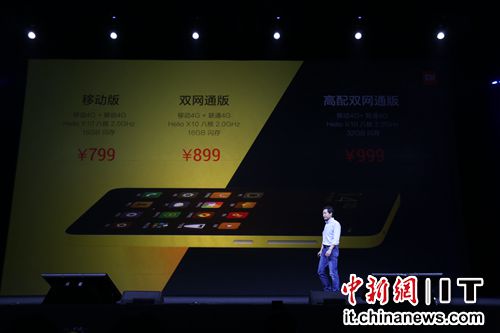 China's top smartphone maker Xiaomi has announced a new Redmi Note smartphone, an improved operating system for its smart devices, and a new super mini router.
The new redmi 2 promises users improved video quality. It can act as a remote control for televisions and air-conditioning and has a specialized night screen.
Xiaomi CEO Lei Jun.
" We also support the night screen. If at night, you adjust the brightness to the lowest setting it will still be very bright. We have adjusted the brightness setting so when you read at night, it will not hurt your eyes."
The new operating system includes several new features including reduced battery consumption, specialized themes and a new baby and pet album feature.
Lei says it uses face recognition to store all pet pictures and baby pictures into specialized albums that can be viewed on multiple devices by family members.
"After we took a lot of pictures we realized it was really difficult to share these photos with relatives. We use face recognition to find all the photos of your babies and put them into the baby album so your family can see. You can also set the album to your lock screen so you can see the baby pictures every time you use your phone."
Xiaomi's new operating system is available to download for free from Friday, August 14th. The Redmi note 2 will be available from August 16th at a starting price of 799 yuan.
Xiaomi's new super mini home router, which boasts adequate capabilities despite being smaller than its competitors, will also be available from August 16th for 79 yuan.