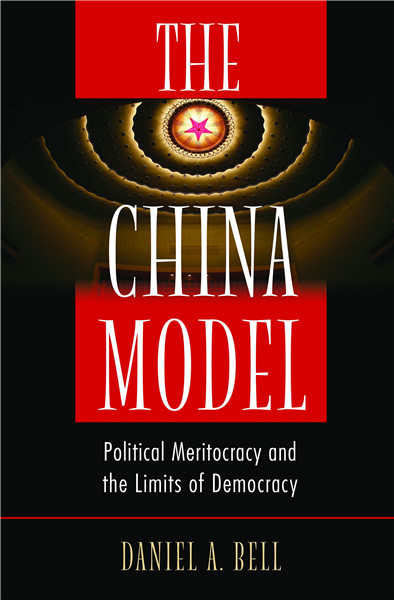 Cover of the book that may become the most significant book about China in English this year. [Photo provided to China Daily]
Of some 7 million Communist Party of China cadres who begin at primary-level organizations, only 140,000 make it to central and provincial governments. To be among seven members elected to the Standing Committee of the Politburo of the CPC Central Committee, the Party's topmost decision-making body, someone would have to have previously served either as governor or Party secretary of at least two provinces.
Someone of Barack Obama's pre-presidential experience would have only made it as manager of a small county in the Chinese system, Bell quotes an expert as saying.
"People do not understand the meritocratic aspects of the Chinese system. There are three standards of what counts as being a good political leader, which I discuss in the book."
Intellectual quality, social skills and virtue (commitment to the community)-in that order, are the three key requirements of China's leaders, Bell argues in his book.
"The Chinese political system is designed so leaders score above average in all three of these," he adds.
Bell is a Canadian who studied at McGill University in Montreal and at Oxford, where he met his wife, Song Bing, in 1989. Song works for Goldman Sachs in Beijing.
"After we first met, I went to Middlebury College (Vermont) to learn intensive Chinese, and she went there to learn French, which she didn't speak. At home, we used to speak a mixture of Chinese, French and English. Our kid was hopelessly confused."
After that Bell pursued an academic career that took him to Singapore and Hong Kongbefore landing the Tsinghua assignment in 2005.
His work on Confucianism, which he says is now very relevant to the Chinese political system, won him praise in the past.
The China Modelalso brings together some of his thoughts previously published in newspapers and academic journals.
Bell says Western government systems and the Chinese model are not necessarily polar opposites, there being elections in the Chinese system at the local level.
"I think one person, one vote works best at a local level because the people know the leaders they are electing," he says.
One of the weaknesses of Western democracy, he argues, is that voters are often ignorant of the issues they are voting on. He cites the average American thinking that 18 percent of the federal budget is spent on foreign aid when the reality is 1 percent.
The strength of the Chinese system, he says, is "experimentation", where policies can be tested in local areas-for example, the creation of special economic zones in the 1980s that kickstarted the country's economic revival.
The reintroduction of a meritocratic system of recruiting officials with tough entry exams in the '90s should stand China in good stead with its future generations of leaders, he says.
There is little understanding of the Chinese political system among Western academics, he says.
"Academics just fly in for a week and leave. They don't really engage. In the old days, John Dewey (the American philosopher) and Bertrand Russell would spend a year here."
Zhang Yue contributed to this story.
【1】
【2】