Companies, celebrities and corrupt officials paid to protect their reputations on 'Net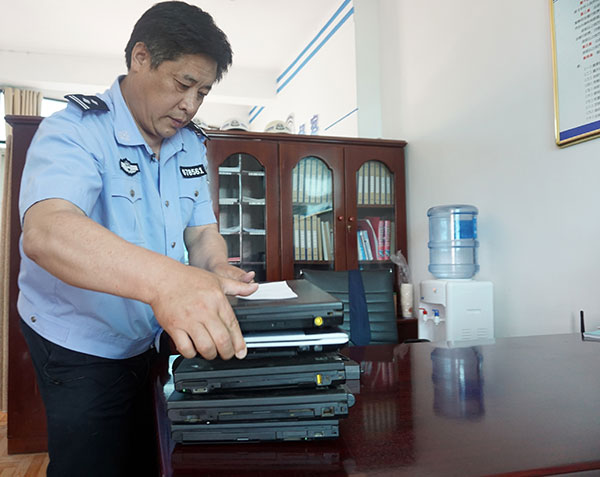 Police collect computers in May that had been seized during a crackdown on the gang that made millions of yuan by hacking into the Internet. Yu Guoqing / Xinhua
Computer technician Yu Mou amassed a 7.8 million yuan ($1.3 million) fortune in four years by using his self-taught skills, according to police.
The catch is that Yu's ability to spend that pile of cash is now severely curtailed because he is languishing in a cell.
The business that the 26-year-old is alleged to have engaged in thrives in the darker regions of the Internet and barely existed 10 years ago.
For Yu and nearly 2,000 accomplices in 22 cities and regions across China, the task was simple: restore people's reputations by deleting online posts that cast them in a bad light.
By the time the gang was broken up in Qichun county, Hubei province, in May, it had raked in 50 million yuan in just five years, police said.
This is the biggest haul from such activities uncovered so far, police said, adding that 10 suspects were being held for further questioning and five were still on the run.
By sifting through the group's accounts, police discovered that clients had been charged from several hundred yuan to 4,000 yuan to delete a post, depending on the popularity of the websites on which the compromising information was displayed.
Further analysis of the gang's trading records suggested that the clients - mainly companies, celebrities and corrupt government officials - were prepared to splash out large sums to snuff out negative publicity or prevent allegations from going viral.
Police said they found documents relating to 52 deletions carried out on behalf of a county chief in graft-riddled Shanxi province. The cost: 38,000 yuan.
Itemized entries showed that in this case the amount charged for each deletion ranged from 200 to 2,000 yuan, and the entries identified the Web addresses from which posts were removed.
Police said the gang called itself Crisis Management and operated as a chat group on Tencent QQ.
"It is difficult to track down the culprits, who use pseudonyms, let alone nail down the evidence that would put them behind bars," said Luo Zhongsheng, the officer in charge of the case.
【1】
【2】