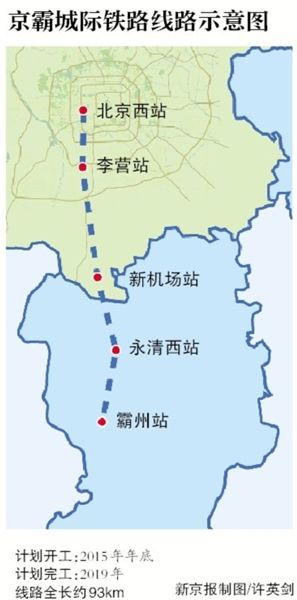 The entire journey of the railway connecting Beijing and Bazhou will be 93km.[Photo/Beijing News]
Construction of a railway connecting the southern part of Beijing and Bazhou in neighboring Hebei province is to start at the end of this year, according to a national railway survey and design corporation on Wednesday.
The 93km rail will begin at Beijing's West Railway Station and stop at Beijing's new airport and Hebei's Gu'an and Yongqing before reaching the final destination of Bazhou.
"Most of the railway will operate above ground," said a staff member from the Third Railway Survey and Design Institute Group Cooperation.
According to a report from The Beijing News, the new train line is expected to take three and a half years to complete and the opening time has not been confirmed yet.
"We will try and get the train into operation to coincide with the new airport in the Southern part of Beijing," the staff member said.
【1】
【2】