More and more Chinese students have been going abroad to study in the past decades, making China the largest source of overseas students in the world, the Global Times reported on Monday.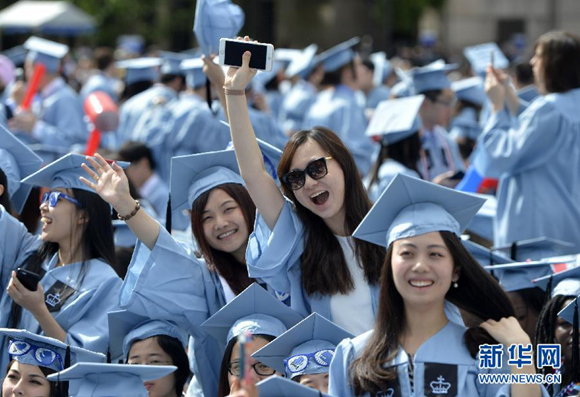 Students from China attend the graduation ceremony at Columbia University in the United States on May 20, 2015. It was the university's 261st graduation ceremony. Approximately 15,000 graduates attended the ceremony, including nearly 600 from China. [Photo/Xinhua]
According to a report by Pittsburgh-based WholeRen Education, the number of Chinese students studying overseas reached 459,800 in 2014 and more than half of them made the United States their first choice.
Statistics from the New York-based Institute of International Education also showed that since 2009, China has consistently had the largest number of students abroad of any country in the world. In 2013-2014, 31 percent of American schools received Chinese students, 274,339 in total, and a 16.5 percent year-on-year gain.
Differences between the new and old generations
Three decades of fast economic development have enabled many Chinese families to send their children to study abroad, the newspaper said. However, different economic conditions have created different kinds of students.
Statistics show that last year most of Chinese students went at their own expense or applied for scholarships, and only 4.6 percent were funded by the government.
Wang Yaohui, director of the Center for China and Globalization, said the profile had changed "from the elite to the general populace."
"The old generation had to undergo strict screening before they could get scholarships for postgraduate study in the United States, and very few were chosen. Most of them were older, nostalgic for their hometown and had gone through a lot in life. Most of them were not the only child in their family. Therefore, they particularly cherished the opportunity to study abroad."
However, the new generation is much younger. "Most come from well-off families and belong to a generation with strong personalities," Wang said.
According to the WholeRen Education report, about 8,000 Chinese students lost their places in American colleges and universities in 2014, 80.55 percent due to poor academic performance or dishonesty.
WholeRen said students aged from 18 to 25 are most likely to face dismissal.
"Chinese students used to be considered top-notch but over the past five years their image has changed completely - wealthy kids who cheat," Chen Hang, chief development officer at WholeRen, told The Wall Street Journal.
Overseas Chinese students - a weak group
Chen Hang said some educational research institutions had noticed many of the Chinese students even couldn't complete English preparatory courses.
"The problem also exists in American high schools or community colleges, which reflects the fact that the Chinese students studying in the United States are not special examples of the country's educational system, but they represent a real and normal level," Chen argued.
According to statistics issued by the U.S. Department of Education, 41 percent of American undergraduate students cannot complete college degrees within six years, with the rate even higher in community colleges - 69 percent. The U.S. Newsweek gave some specific examples – 15 percent in Harvard University and 36 percent in the University of Pittsburgh.
Chen Hang explained that the differences between Chinese and American education must be acknowledged. "It is rare in China that a student does not graduate, but it is not so in the United States. Chinese parents should acknowledge this situation. They should understand the truth about how American education operates."
He called for emphasis on Chinese students studying in the United States, who he called "a weak group", adding that their success or failure is related not only to the Chinese students themselves and their families, but also to the China-U.S. educational exchanges industry and social costs.
Chen recalled his own "wonderful days" studying in the United States in the early 1990s. Chinese students at that time studied very hard and were very united. Although poor, they had pursuits, and achieved excellent results that led people from other countries to treat them with increased respect.
Chen is envious of and is concerned about the current situation, saying many Chinese students who come from rich families consider the annual US$50,000-60,000 tuition fees not worth mentioning; however, this has left a negative impression in many ways on American society that Chinese educators and parents should consider carefully.
【1】
【2】