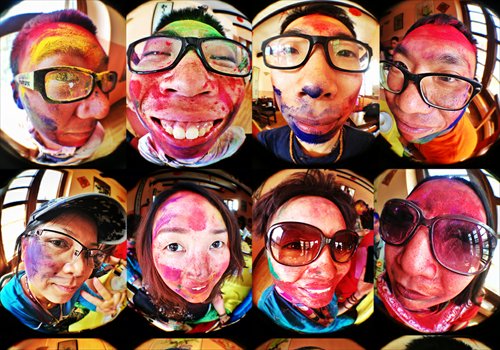 Chinese tourists smeared with colored powder after participating in Holi, a Hindu religious festival, in Nepal. Photo: Courtesy of Li Yirui
Local festivals breathe life into travel for those tired of same old tourist traps
The first thing Li Yirui did after quitting her job as a journalist in Chengdu, Sichuan Province to become a freelance photographer was to go to Nepal for Holi, an ancient Hindu religious festival in which participants batter each other with colored powder and water.
Also known as the festival of colors or the festival of love, Holi is traditionally celebrated on the full moon of the 12th month of the Hindu calendar, typically February or March on the Gregorian calendar.
Li recalls heading with her friends toward Durbar Square in Katmandu on the crack of dawn on the day of Holi in 2014, flushed with anticipation. Along with India, Holi is most prominently celebrated in Nepal.
At first, Li said they did not notice anything out of the ordinary on the streets, but as they got closer to the square, they were met by a sea of young Nepalese, faces painted, shouting "Holi! Holi!"
"We couldn't help but feel excited. We were full of curiosity and eager anticipation for the carnival!" said Li. "The spirit during festivals is the best representation of a country or city's character."
According to National Tourism Administration, more than 98 million people from the Chinese mainland traveled abroad in 2013. As Chinese tourists become more discerning, traveling to local festivals is becoming an increasingly attractive option for those looking for a more authentic experience of cultures abroad.
A feast of colors
Even now, when she closes her eyes, Li said, she can picture the bombardments of colored powder flying through the sky and the smiling faces of triumphant locals and curious tourists alike. "It was a party of colors. Every participant was extravagantly dressed, which makes you reflect upon [Nepal's] creativity and imagination."
Besides fighting with colored powder and colored water, said Li, there was also live music with DJs and other performances, including break-dancing battles.
"Chasing after festivals is a great way of traveling," said Li. "Participating in festivals makes it easier to blend into the local life, and it's the best way to experience another culture's beliefs and lifestyle."
For those eager to take part in Holi, Li said it was advisable to double-check the date well in advance, as it varied year to year.
"Wear a white T-shirt, because all the colored powder [being thrown around] will paint your clothes, which will give you a unique souvenir," she said.
For those intending to carry cameras, water-proof and dust-proof cases were a must, she added.
【1】
【2】