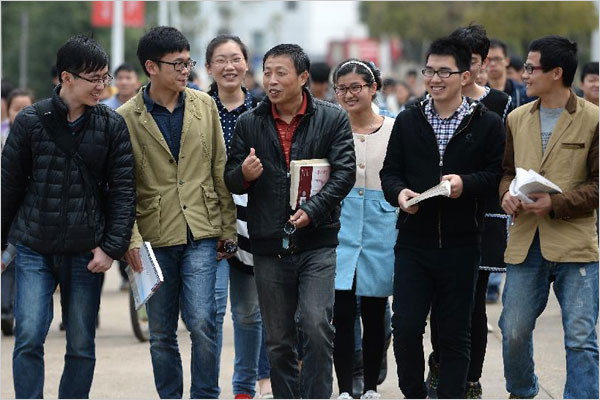 Gan Jubao on the way back to the dormitory with his classmates at the Jiangxi University of Traditional Chinese Medicine on March 18, 2015. [Photo: Xinhua]
Gan Jubao, 52, is a college student at Jiangxi University of Traditional Chinese Medicine, majoring in Chinese and Western Clinical Medicine.
He was an employee at a dairy plant and once started up his own company when he was young.
However, his passion for medicine made him return back to school for study.
In order to encourage his two children to work harder, Gan, together with his older son, took part in the college entrance examination in 2008.
A year later, he took part in the exam once again with his younger son and was admitted to Jiangxi University of Traditional Chinese Medicine, becoming the oldest student in the college.
In 2014, he tried to take the exam for postgraduate study but failed due to the English test.
He did not give up and took his chances one year later.
His score for the preliminary test in the second year exceeded the national requirement by 11 points.
"I am planning to pursue a doctorate degree if it goes smooth with my master's study. I will encourage myself to study hard and never stop to learn new knowledge and try new methods. I hope I will go further on the way of medicine learning," Gan said.
【1】
【2】
【3】
【4】
【5】
【6】
【7】