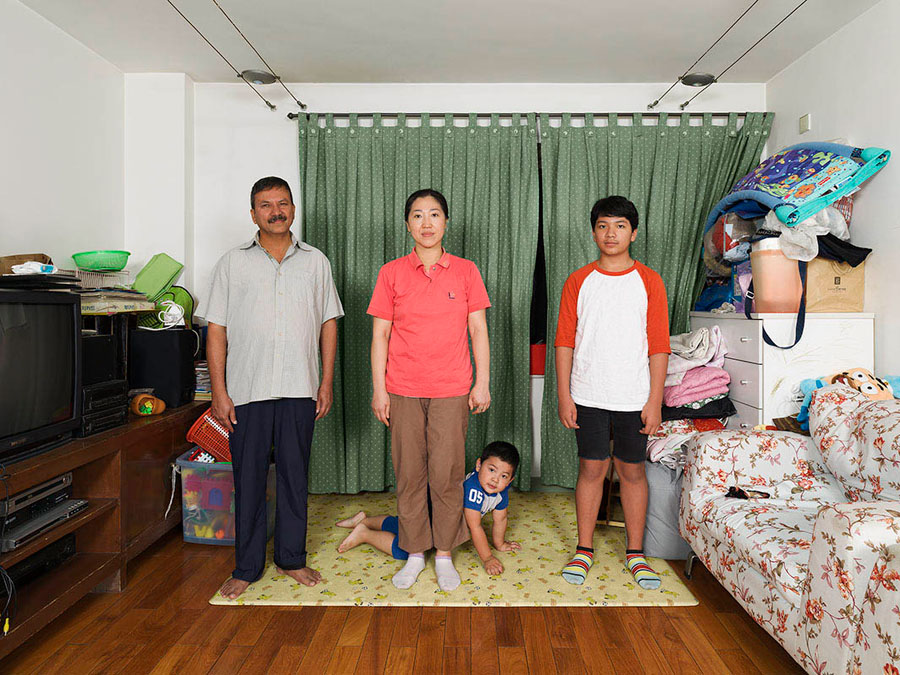 Chandola Family [Photo Courtesy of CYJO]
"CYJO's Mixed Blood series depicts a waypoint in humanity's progress toward a more integrated society, with the family unit as its base - as represented by specific families in two of the world's most influential nations.
Mixed Blood is a group of photographs and texts created by CYJO between 2010 and 2013. It portrays families with children of 'mixed' races, ethnicities, and cultures in New York City and Beijing."
Q&A with CYJO
Why do you choose Beijing in this project?
I've had a relationship with Beijing since 2009. I spent a lot of time here and my husband has work here. I've been committed to the city for quite a while. It's a great opportunity to show part of that reality. More than an artist documentarian, a researcher is really about showing this community, this perspective. What's also fascinating about it is that it's given an opportunity to be able to show the diversity that also lies in Chinese culture. A lot of people who do not know about Chinese culture may not know that China has 56 minority nationalities. I think it's a great opportunity to share stories about these families.
How do you take photos of a family?
It's really about going into their homes and finding a space that allows for a portrait for the entire family, and to talk them through, allowing them to have their own stance, their own voice. It's a natural process.
How did the migrants integrate into the American mainstream life?
My relatives, my family have children from different backgrounds, a lot of my families have these representations. In America, obviously the American experience for many families is that coming into the country, the parents don't know the language. It's not always easy and that's part of a lot of the story here. You make the new country your home and you become part of that culture, but at the same time you respect that culture you loved.
Do you get feedback for this project?
The feedback has been quite resonating, especially for people that come from one place and move to another place. So even with Kyopo, a huge group of individuals that are of Korean ethnicity, but their native tongue is English, or they grew up in France, or they are Danish, or they are raised in Japan. It's very interesting , it brings in so many different cultures… To them, it's also part of their story.
CYJO | MIXED BLOOD
MARCH 7TH, 2015 - APRIL 3RD, 2015
Three Shadows Photography Art Centre, Beijing
【1】
【2】
【3】
【4】
【5】
【6】
【7】
【8】