Poll finds relations with Japan drop to 3rd place for first time in 9 years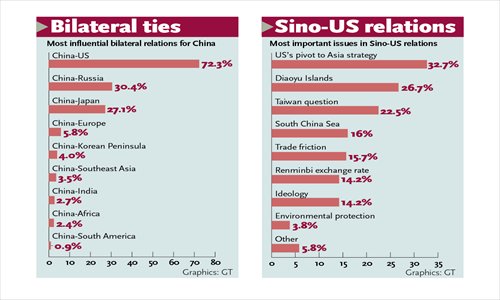 Graphics: GT
Sino-Russian relations are the second most influential for China in 2014, surpassing Japan for the first time in nine years, according to a Global Times poll.
Bilateral relations with the US, Russia and Japan are the most influential diplomatic relations for China, according to the survey released by the Global Times' Global Poll Center Monday.
The survey collected telephone responses from 1,515 residents from seven Chinese cities, including Beijing, Shanghai, Guangzhou and Changsha.
Some 30.4 percent of respondents said Sino-Russian relations are the second most influential for China, the highest since 2006 when the annual survey, titled "How Chinese people viewed the world," was first conducted.
This year, respondents felt that Sino-Japanese relations were not so important, evidenced in a drop of 11.5 percentage points to 27.1 percent.
Russia's perceived strength made an impact on respondents, with 30.4 percent saying they were impressed by its anti-sanctions measures and 28.7 percent by Russia's annexation of Crimea.
"Russia grabbed the limelight in the international arena this year due to the Ukrainecrisis. Its ties with China improved as several critical deals were signed. Meanwhile, Prime Minister Shinzo Abe's economic stimulus policies failed, and Japan's stagnant economy has taken a toll on how people view the country," said Jin Canrong, deputy dean of the School of International Studies at the Renmin University of China.
Relations between China and Japan have been overshadowed by territorial disputes and Japan's reluctance to face up to its wartime history. It wasn't until November this year that Chinese President Xi Jinpingand Abe held their first formal talks since they both took office.
About 19.1 percent of respondents expected ties to improve next year, with 44.1 percent believing relations would remain strained, and another 20.2 percent believing they could deteriorate.
While 72.3 percent of respondents deem Sino-US relations the most influential, many agreed that the US pivot toward Asia and its efforts at a strategic containment of China are holding ties back.
Jin predicted that the Taiwan question may carry more weight among the factors that impact bilateral ties with the US while strategic containment is likely to be less influential.
"The recent Taiwan elections indicate that the Democratic Progressive Party may become the ruling party, whereas no substantial influence has been exerted on China by the pivot to Asia strategy," Jin said.
About 50.3 percent considered China's neighboring environment is favorable to its peaceful development and 85.6 percent are optimistic about the future international environment for China.
"Most measures of containment [from the US] focus on security issues, such as on the East and South China seas, instead of focusing on economic restrictions," said Ma Zhengang, a foreign policy advisor to China's foreign ministry.
"The 'One Belt and One Road' initiative [put forward by President Xi Jinping] is a response to the containment," Ma said.
Some 55 percent and 47 percent surveyed think territorial disputes over the South China Sea and intervention by external forces including the US are the most critical issues that influenced China's relations with Southeast Asia.
In addition, 38 percent of the respondents think Sino-North Korean ties have become strained while nearly 50 percent believe them to be unchanged.
More respondents believe China is a world power than last year, up by 18.4 percent to 34.9 percent, with 75 percent believing that China has not attained "world power" status.