75 percent of poll respondents have positive or neutral view of country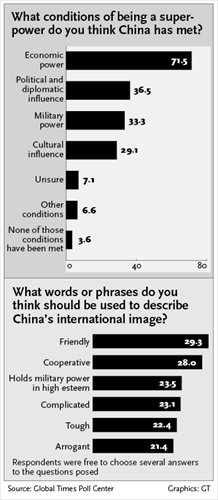 Overseas perceptions of China have shifted from "confident" and that it "holds military power in high esteem," which were the top answers in a poll conducted last year, to "friendly" and "cooperative," the latest poll showed.
The telephone and online survey carried out by the Global Times Poll Center between September 25 and November 17 polled 17,544 people above the age of 18 in 17 countries including China, Russia, Japan, South Korea, the US, Brazil, the UK, Australia, and South Africa.
The poll results show that many overseas respondents saw China as "friendly" (29.3 percent) and "cooperative" (28 percent) roughly five percent higher than the proportion of people who believe China "holds military power in high esteem." A similar poll conducted last year showed that the largest proportion of overseas respondents saw China as "confident" (30.3 percent) and that it held "military power in high esteem"(29.4 percent).
However, over 20 percent of respondents believed that China is "complicated," "tough" and "arrogant."
Many Japanese respondents saw China as "arrogant," while a high proportion of Australian respondents thought China projects a "tough" image.
"China's attitude towards the East China Sea and the South China Sea explains why the country is seen as 'complicated,' 'tough,' and 'arrogant' by the public around the world," said Jia Qingguo, professor of international relations at Peking University.
More than 75 percent of respondents from 16 foreign countries held a positive or neutral attitude towards China, and 33.4 percent had a positive attitude towards China, a number which has risen by 3 percent since last year.
Some 55.3 percent of respondents said that they believe China has a positive economic and cultural relationship with their countries, a slight increase compared with last year's poll.
The survey also found that most respondents from foreign countries recognize China's "positive energy" and that worries about China's growing military power have become less prevalent, except for respondents from Vietnam and Japan. Respondents from non-neighboring countries were more likely to believe that China is a superpower than those living in neighboring countries, the poll showed.
Over 70 percent of respondents living outside of China said that the country has superpower-levels of economic power, far exceeding the number of people who believe China has the political and diplomatic power of a superpower (36.5 percent).
Some 45.7 percent of respondents said that they think China will be the most influential country in Asian affairs over the next 10 years, higher than the amount of people who believed that same is true of the US (24.4 percent).
The poll also shows that over 70 percent of overseas respondents replied positively or neutrally to the question "Are you confident that China's new generation of leaders has played a positive role in international affairs?" Also, over 21 percent of respondents said they had heard of the "Chinese Dream."