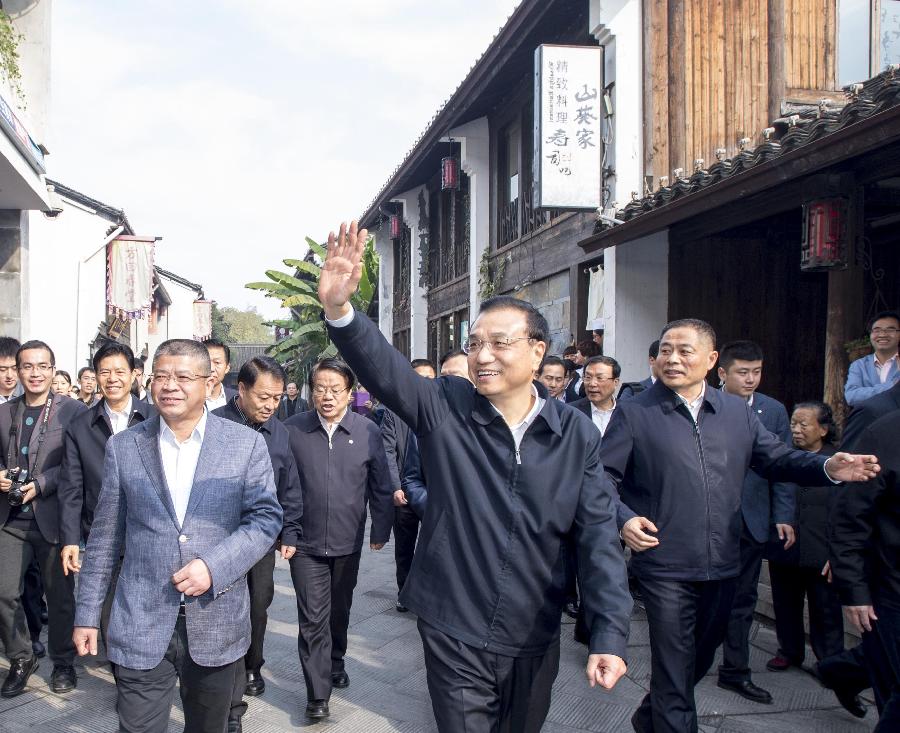 Chinese Premier Li Keqiang (front) waves to crowd when inspecting the area of the Gongchen Bridge section of China's Grand Canal in Hangzhou, capital of east China's Zhejiang Province, Nov. 21, 2014. Li made an inspection tour of Yiwu and Hangzhou from Nov. 19 to 21. (Xinhua/Wang Ye)
BEIJING, Nov. 21 (Xinhua)-- Chinese Premier Li Keqiang has called for new economic growth dynamism and "new growth engines" as the economy confronts with downward pressure.
Li made the remarks during a tour of east China's Zhejiang Province.
Despite economic headwinds this year, China has seen robust job creation, as measures like streamlining administration and delegating more power to lower-level governments have spawned many new enterprises, said Li.
The economy expanded by 7.3 percent year on year in Q3, compared with 7.5 percent in Q2 and 7.4 percent in Q1. Q3 growth was the slowest quarterly growth since Q1, 2009.
China should help the grassroots to set up their own businesses and speed up the development of new business models, Li said.
Li encouraged Chinese manufacturers to go global, establish themselves as world-renowned brands, and roll out more "Created-in-China" products and services through innovations.
He also urged policy efforts to aid mid-sized and small banks and bolster the development of the Yangtze River economic belt.
【1】
【2】
【3】
【4】
【5】
【6】
【7】
【8】