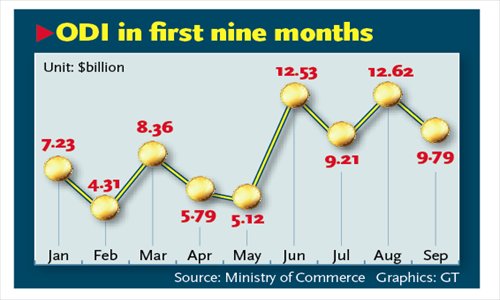 China's outbound direct investment (ODI) will expand at a higher pace this year than previous forecast and the country is on track to become a net capital exporter, the Ministry of Commerce(MOFCOM) said Wednesday.
The ODI growth was forecasted at around 10 percent over the level a year ago, but the actual growth may be higher than we had originally predicted, Zhang Xiangchen, assistant minister of commerce, said at a press conference on Wednesday.
The ODI may exceed $120 billion this year and will increase at a rate of 10 percent year-on-year in next five years, Zhang predicted.
It is only a matter of time when China's ODI exceeds the foreign direct investment (FDI) inflows, Zhang noted.
The ODI rose 21.6 percent to $74.96 billion in the first three quarters this year while the FDI fell 1.4 percent to $87.36 billion, according to the MOFCOM. Last year, the ODI increased by 16.8 percent to $90.17 billion, while the FDI increased 5.25 percent to $117.59 billion, MOFCOM data showed.
China's ODI will maintain a rapid growth momentum, driven by several new policies including the release of a new regulation on overseas investment by the MOFCOM on September 6 and the ongoing negotiation of an investment agreement between China and the US, said Wang Yongzhong, a research fellow at the Institute of World Economics and Politics under the Chinese Academy of Social Sciences.
Under the new regulation, most domestic firms no longer need to get approval from the MOFCOM for investing abroad, but just register the investment with local authorities.
Only non-financial overseas investments in some "sensitive countries and regions" and "sensitive sectors" need to be reviewed by the MOFCOM, the ministry said.
【1】
【2】