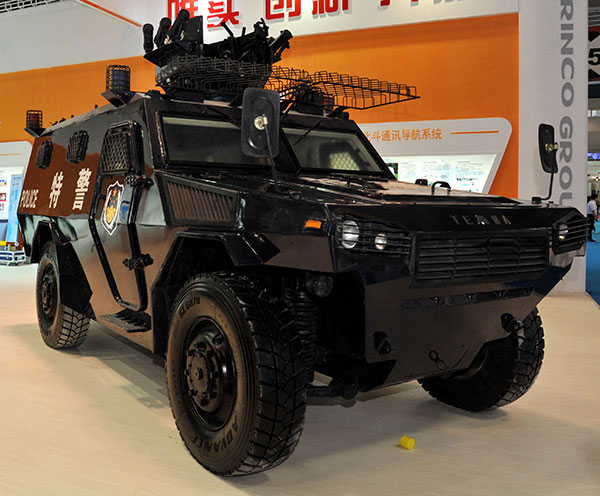 More than 300 VN-4s have been sold overseas. [Photo: Xinhua]
For countries facing unrest or terrorist threats, China's largest land armaments maker is offering a deterrent-the VN-4 armored vehicle.
More than 300 of them have been sold to five nations in Asia, South America and Africa since 2011, when the armored vehicle was exported to its first user, an Asian country.
This is according to a publicity officer at China North Industries Group Corp, known as Norinco, who spoke to China Daily in an exclusive interview.
Han Xiaoxin, publicity head at Chongqing Tiema Industries Group Co, a Norinco subsidiary that specializes in armored vehicles, said these contracts earned nearly 330 million yuan ($50.3 million) for the State-owned defense company.
"Since the beginning of this year, we have signed contracts with foreign clients for VN-4 deals with a total value of 4.7 million yuan.
"We have also reached cooperation agreements on the VN-4 with several countries in Asia and Africa," he said, adding that Chongqing Tiema is helping an Asian nation to build an assembly line for the vehicle, which will soon start operating.
The VN-4, which weighs 9 metric tons, is suitable for quick-response deployment and can travel in all types of terrain.
A wide variety of weapons can be installed on the vehicle at the buyer's request. It can be used to control riots, rescue hostages, for armed escorts, border patrols, and for counterterrorism and peacekeeping operations, Han said.
According to Chongqing Tiema, the VN-4 can carry 10 people, can conduct amphibious operations and is able to resist 7.62-mm bullets fired from assault rifles.
Han said, "The capability and performance of the VN-4 has been recognized by our clients. One of them, a South American country that has faced social unrest in recent years, bought a large number of VN-4s for its National Guard, which used them for many security tasks.
"Another buyer in Africa uses VN-4s to patrol and guard important outposts. It also wants to buy more of the vehicles."
He declined to identify the buyers, citing Norinco's confidentiality policy.
According to IHS Jane's Defense Weekly, the latest VN-4 buyer is Kenya, which commissioned 30 of the vehicles in February for its police force. The report also said Venezuela bought 141 VN-4s in early 2013.