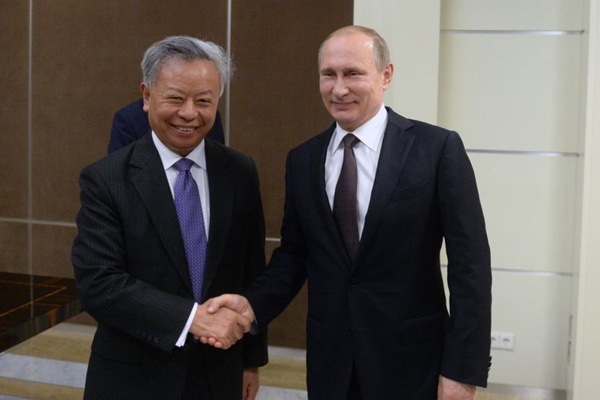 Russian President Putin (R) meets with visiting Asian Infrastructure Investment Bank (AIIB) President Jin Liqun in the Russian city of Sochi on May 18, 2016. [Photo: ifeng.com]
Russian President Vladimir Putin has hailed the mechanism of the Asian Infrastructure Investment Bank as a complement to the current international financial structure.
Putin made the remarks at a meeting with the visiting AIIB president Jin Liqun in the Russian city of Sochi.
He suggested that the AIIB could work on projects in Russia.
"We can suggest a number of interesting projects on the territory of Russia. It is the development of the trans-Siberian railroad, the development of the Arctic shipping route. There could be special economic zones in the Far East of the Russian Federation."
For his part, Jin Liqun thanked Russia for its support for the AIIB, adding that the bank's work as well as the cooperation among all shareholders would become more effective through joint efforts.
The AIIB, as a new global multilateral financial institution headquartered in China, aims to support infrastructure projects in Asia.
It currently has 57 prospective founding members with an authorized capital of 100 billion U.S. dollars.
The bank started operation in January.