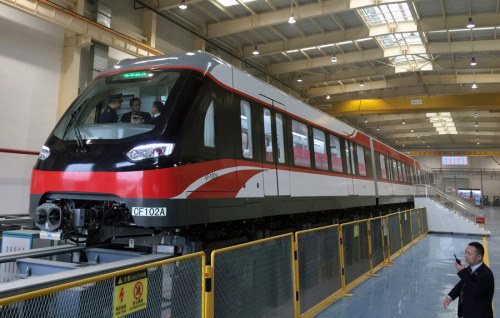 A maglev train waits to leave its station in Changsha, capital of Hunan province. (Photo by Xu Xing/For China Daily)
China is developing a new type of medium to low-speed magnetic levitation train, or maglev train that can attain a top speed of 160 kilometers per hour, said an executive of the country's railway technology development.
The maglev train, currently in the pilot manufacturing and assembly phase, is expected to roll off the production line in Zhuzhou, Hunan province, in the middle of this year, said Zhou Qinghe, a deputy to the 13th National People's Congress and president of CRRC Zhuzhou Locomotive Co Ltd.
CRRC Zhuzhou is a unit of China Railway Rolling Stock Corp, the largest rolling stock manufacturer by production volume in the world. The subsidiary is specialized in manufacturing trains including electric locomotives, mass transit vehicles, intercity electric multiple units, maglev trains and super-capacitor trams.
The new train will reach a substantial speed increase, given the worldwide top speed for this kind of maglev vehicles is currently 100 km/h.
It will also have a 30 percent increase in transport capacity compared with China's first medium-low-speed maglev rail line, operated in May 2016 between Changsha's south railway station and the airport in Changsha, the provincial capital of Central China's Hunan province. It takes 19 minutes and 30 seconds to complete the 18.55-km journey.
"The train was independently developed in China," said Zhou.
The new maglev train with short stator drive system is appropriate for urban and regional applications, in contrast to the ones with long stator drive system that is more useful for long distance regional transportation with limited numbers of stops.
The new maglev train is expected to be a stand out rail transit product serving China's urbanization, he said.
"The project aims to enable China to have independently owned technology in the design, manufacturing, adjustment and appraisal of the medium-low-speed maglev transportation system," said Cai Jiming, another NPC deputy and a professor with Tsinghua University in Beijing.
Cai said as a growing number of Chinese cities have released their plans to develop urban transit systems and airport lines between city and airport, medium-low-speed maglevs will be popular choices for clients in both home and global markets.