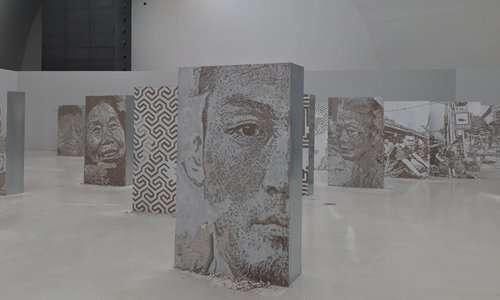 Imprint exhibition at CAFA Museum Photo: Xu Liuliu/GT
Portuguese artist Alexandre Farto's Imprint exhibition made its debut at the Central Academy of Fine Arts Museum on Friday.
The exhibition, part of the Farto's large Scratching the Surface project, features 70 of the artist's "wall paintings" portraits created by scrapping away the surface of a wall to form different designs. Several of the wall portraits were created in Beijing using local materials and feature some unique looks at the capital and its people.
A well-traveled street artist, Farto, also known by his tag name Vhils, has exhibited his work at some 86 locations in more than 30 countries and regions.
In addition to the Scratching the Surface project, the artist has also been working on music videos, short films and a stage production.