G20 cartoon commentary ④: Chinese monument for G20's development
(
CNTV
) 08:23, September 08, 2016
By Zhang Maorong, Institute of World Economy, China Institutes of Contemporary International Relations; comics drawn by Chi Ying

The 11th summit of the Group of 20 (G20) major economies concluded on September 5 with a G20 Leaders' Communiqué of the Hangzhou Summit.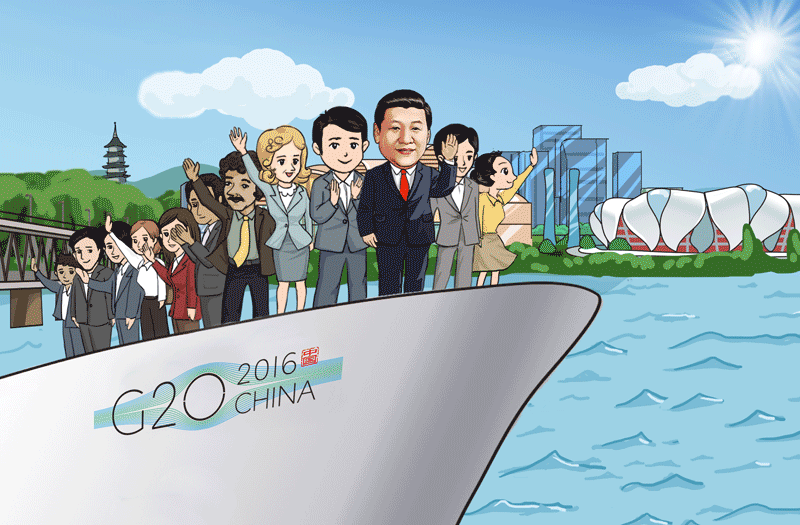 Chinese President Xi Jinping hosted and addressed the closing ceremony.

The Hangzhou summit had concluded a historic 29 achievements, which sets a Chinese monument for G20 development.

The results consist of five major aspects: charting the course for the world economy, innovating growth patterns, improving global economic and financial governance, rejuvenating international trade and investment, and promoting inclusive and interconnected development.

The summit's achievements have absorbed most of the "Chinese remedies" and "Chinese propositions," which are distinct "Chinese elements" and provide powerful impetus for realizing a robust, sustainable, balanced and inclusive global economic growth.

This year's summit has left a "China mark" and injected "Chinese confidence" to the G20 mechanism, and it will set out from Hangzhou refreshed with a new path.
( The opinions expressed here do not necessarily reflect the opinions of Panview or CCTV.com. )
(Editor: Huang Jin,Bianji)
Related reading
Full coverage